Sunflower oil is extracted from sunflower seeds. It's used for both cooking and cosmetic purposes. Sunflowers are good for your health and sunflower oil can be obtained from pressed seeds. It has many benefits for your health.
As we all know, any oil that is high in saturated fats is not good for your health because these raise your cholesterol levels, but sunflower oil is low in saturated fats, so it is a healthier oil as compared to some other oils which are high in saturated fats. However, there are some exceptions to this rule, coconut oil is one of them. Coconut oil is high in saturated fats, but they are low-medium chain fatty acids. As a result, coconut oil is healthy.
This article is about some of the best sunflower oil brands. We have spent a few hours to search for some of the brands which are safe to use for cooking, baking and different purposes.
Editors' Picks for Top Sunflower Oil Brands for Cooking
Best Sunflower Oil Brands:
Here is the list of some of the best sunflower oil brands:
1. Healthy Harvest Non-GMO Sunflower Oil - Link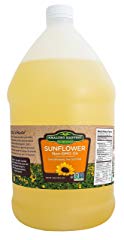 It is enriched with omega 3 fatty acids and Vitamin E.
This sunflower oil is free from GMO and it is created without using chemicals.
It is healthy oil and good for your heart.
Not only that the sunflower oil helps in reducing cholesterol also.
This sunflower oil has longer shelf life.
2. Baja Precious - Link

This sunflower oil is High Oleic and organic.
It doesn't contain GMO and is all natural.
The bottle in which it comes is BPA-free and light-weight.
This oil is extracted by pressing the seeds of sunflowers and it is high in monounsaturated fats whereas the saturated fats and polyunsaturated fats are low in it.
3. La Tourangelle, Garlic Infused Sunflower Oil - Link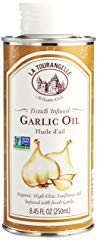 The oils from this brand have premium taste as the ingredients are of best quality.
This oil is great for high heat cooking and different salads.
This safflower oil is garlic infused with fresh and aromatic garlic within the safflower oil which is not only organic but also makes your food delicious.
It is great oil for various dishes such as pasta, salads, grilled meat, the cheese plate and many others.
4. SUNVELLA FryPure Non-GMO High Oleic Sunflower Oil - Link

It is high Oleic Sunflower Oil which is rich in fatty acids in vitamin E, making your dishes taste light, delicious along with health benefits.
It is mechanically processed and then it is refined and it is free from GMO.
Another good thing about this oil is it has a high cooking temperature which is 450 degrees F.
This way it is a great alternative to any oil which you may be using for deep frying.
It is free from cholesterol and any additives.
5. FLORA Organic Oil Sunflower - Link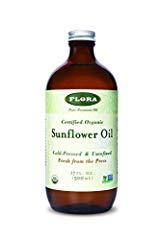 It is light cooking oil which is also great for salad dressings and mayonnaise also.
Not only that, but if you have to serve stir fry dishes, you can use this oil for this purpose too.
It is enriched with essential fatty acids such as Omega 3 and Omega 6 which are really beneficial for our body.
6. Native Harvest Expeller Pressed High Oleic Sunflower Oil - Link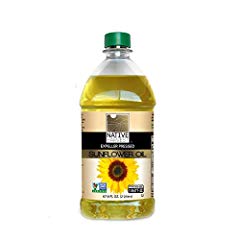 It is 100 percent non GMO naturally and it is high heat refined sunflower oil which is enriched with monounsaturated fats and it is excellent high temperature cooking oil which is also great for baking.
This is naturally expeller pressed sunflower oil which is made without using any harmful chemicals and has a light flavor.
It makes your foods tastes great.
7. Iberia Extra Virgin Olive Oil & Sunflower Oil Blend - Link

It is a premium blend of 80 percent sunflower oil and it has 20 percent extra virgin olive oil.
It is also great for salads, grilling and baking dishes.
Because it has a high smoke point as compared to many oil types, it can be useful in many ways.
This oil is non-GMO.
8. Pure Sunflower Oil 3 L (101 Fl Oz) - Link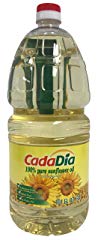 It has rich aroma and this sunflower oil is free from cholesterol and trans fat.
It is high in vitamin E and is great for frying, different dressings, salads, pastries and baking different dishes.
Its smoke point is 437 degrees F.
It also has high content of linoleic acid.
Sunflower Oil Types:
There are 3 main types of sunflower oils. Linoleic, High Oleic and Mid Oleic.
Linoleic
The linoleic acid is an essential fatty acid in the diet. Sunflower oil contains about 70 percent of linoleic acid and 20 percent of oleic acid, whereas saturated fat is only 10 to 11 percent.
High Oleic
This oil type mainly consists of more than 80 percent of monounsaturated fat, whereas remaining percent is polyunsaturated fats along with saturated fats with equal remaining percentage. It has the neutral taste and this oil is great for high heat baking and frying.
Mid Oleic
It is more common type of oil as compared to other types of the sunflower oil. It contains high levels of linoleic acid making it a great dietary source.
Sunflower Oil Comparison with other Oil Types:
Sunflower oil is great for its health benefits. However, there are many different oil types with their benefits. To know better about these, lets do a comparison with other oils:
Sunflower oil vs Safflower oil
The process of extracting both of these healthy oils is quite similar. Sunflower is big enough flower with hundreds of seeds which are pressed to extract the sunflower oil, whereas, safflower oil is extracted by steaming the seeds which is called steam extraction. As we talked about 3 varieties of the sunflower oil, the safflower oil has 2 varieties; one is linoleic and other is oleic. Both of these oils are high in polyunsaturated fats making these better than many other oils.
Sunflower Oil vs Canola Oil
Both of these oils are widely used in various baking dishes. Not only that, these are also popular for snack foods or frying different foods. Both these oils have light color as usually these are refined. In its differences; canola oil is obtained from the canola plant. There are small seeds in the yellow flowered plants which are used in making the canola oil. However, the sunflower oil is made from sunflower seeds.
Other Uses of Sunflower Oil:
This oil has many uses other than cooking, baking and
frying. Lets talk about some of its great uses, one by one:
For Beard
Yes, it works as great oil for beard because it prevents hair loss and breakage. Its fatty acids and vitamins combine together and work as hair moisturizer and keep the hair smooth. Its vitamin E helps in improving hair health and growth.
For Massage
Because sunflower oil isn't greasy and doesn't make skin feel oil. It contains essential fatty acids and it also works as good massage oil according to massage therapists.
Buy on eBay, Etsy, Walmart (subject to availability)
La Tourangelle, Garlic Infused Sunflower Oil, High Oleic Oil for Cooking Pastas, Salad - Walmart, Etsy, eBay
Healthy Harvest Non-GMO Sunflower Oil - Healthy Cooking Oil for Cooking, Baking, Frying & - Walmart, Etsy, Ebay
Baja Precious - High Oleic Sunflower Oil, 750ml (25.3 Fl Oz) - Walmart, Etsy, eBay
Safya - 100% Pure Sunflower Oil, (3 L) 101.4 Fl Oz - Walmart, Etsy, Ebay
Iberia Premium Blend, Sunflower Oil & Extra Virgin Olive Oil, High Heat Frying, 68 Fl Oz - Walmart, Etsy, eBay