Whenever we think of a quick meal, there are different foods which we can think of, such as the pizza. Not to forget, pizzas can be expensive at times. However, when you think about making it at home, the pizza sauce can be the most suitable sauce. If you have the right sauce, you can make and enjoy a delicious pizza at anytime. While it is getting popular, there are some of the best pizza sauce brands for a great taste.
Top Pizza Sauce Brands for Delicious Pizzas at Anytime by Editors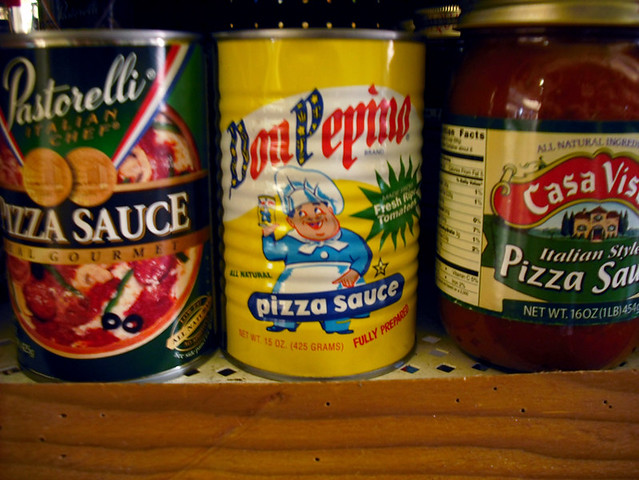 Top 5 Best Pizza Sauce Brands:
Here is the list of some of the best pizza sauce brands, so you can enjoy the delicious pizza at anytime: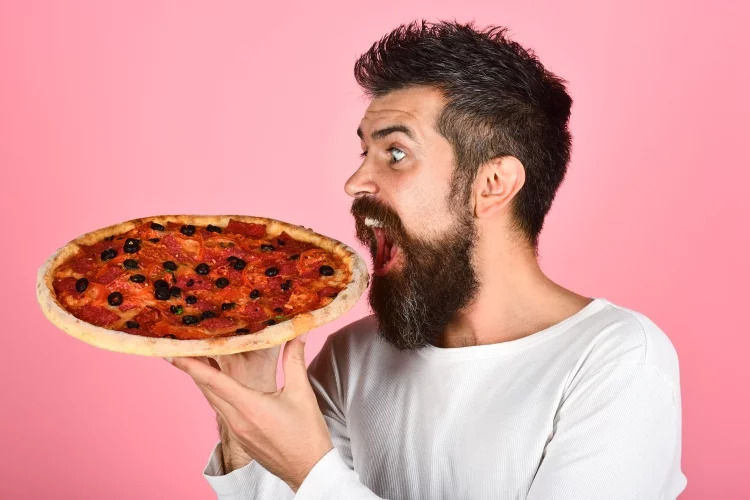 1. Muir Glen Organic Pia Sauce, No Sugar Added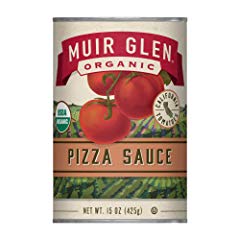 This sauce contains various simple ingredients and in its process the whole tomatoes are cooked into the thick pizza sauce along with the organic extra virgin olive oil, the onions, the basil, sea salt, oregano, the black pepper and also garlic.
This pizza sauce brings the bold and bright flavor to your dishes.
It comes in the box of 12 cans and each of these cans is 15 oz.
Muir Glen Company Profile:
The goods of Muir Glen are still certified organic because they claim that customers, producers, and communities benefit from organic farming. Muir Glen has a long tradition of promoting sustainable cultivation and is steadfast in this dedication. By regenerating natural resources and agricultural ecosystems, their sustainable ingredient procurement approach aims not only to minimize damage, but also to generate a positive effect.
2. Pastorelli Pia Sauce Italian Chef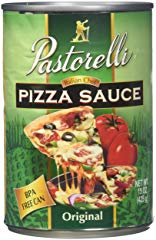 This sauce is free from gluten, and brings rich and zesty flavor to your dishes.
It is made by using the Imported Extra Virgin Olive Oil along with the Pecorino Romano Cheese also.
It is free from the Corn Syrup and preservatives free.
The can of this sauce is also BPA-free.
3. Paesana Classic Pia Sauce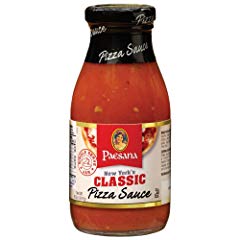 This pizza sauce and comes in a single serve jar which is convenient to use.
The ingredients of this sauce are natural such as the imported Italian plum tomatoes, olive oil, garlic and onions.
The classic sauce not only adds the plenty spiciness but also the sweetness to your dishes.
Paesana Family History:
Since 1902, Paesana has been in existence.
In the 2000s, Lou and Jackie Scaramelli-Massaro took charge of L&S Packing.
The biggest portion of the company is now the private label packing side of the business.
Paesana is a national supplier of luxury sauces and seasonings for some of the world's highest-profile brands.
The company is sold in the U.S., Canada and the United States in more than 100 different stores.
4. Chef Boyardee Pia Sauce with Cheese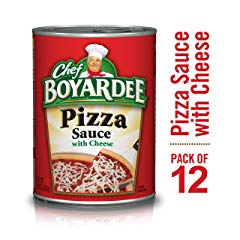 It brings the authentic flavor which you would love.
This rich and Italian flavored tomato sauce along with the zesty cheese makes it easy to make the delicious pizza.
By simply adding this sauce to the dough, the pizza becomes ready in the matter of several minutes.
This is a pack of 12 cans which are 15 oz each can. It is free from the artificial preservatives, flavors or colors.
5. Contadina Squeeze Pia Sauce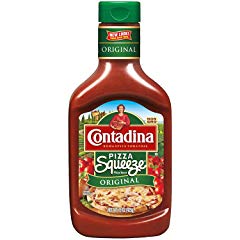 It is the delicious and flavorful pizza sauce which can be great for making different pizzas and calzones.
Not only that, it can also be used with the fresh Italian fresh bread and also with cheese sticks.
This sauce is made by using the Tomato Puree, sea salt, sugar, the modified food starch (corn), the soybean oil, garlic powder and spices etc.
Pizza Sauce vs Pasta Sauce:
The most basic difference in pizza and pasta sauces is; pizza sauce is uncooked (because, that is how the sauce tastes better), whereas, the pasta sauce is cooked ( 1). There isn't much difference in both but it is the ingredients and the consistency of both sauces. Such as the pizza sauce is thicker, whereas, pasta sauce can either be thicker or thin, it can also be smoother.
In other words:
The add-ins to a pizza sauce are mostly limited to items like garlic, oregano, basil, and olive oil ( 2).
For several other ingredients, a slow-roasted pasta sauce has space.
When it comes to pizza, regardless of the sauce, you'll want to layer on all kinds of spices, trusting the toppings to do the job.
Pizza Sauce vs Marinara Sauce:
Pizza sauce is usually not pre-cooked and the reason is, it is cooked with the pizza, whereas, the marinara sauce is cooked and is famous for pasta. Usually the pizza sauce has significant amount of Parmesan cheese which is grated. Another difference is that the marinara sauce is placed on the top of pasta. Adding a number of ingredients make marinara sauce flavorful.
In other words:
Marinara Sauce is:
Marinara sauce is a moderate kind of tomato sauce that, similar to pizza sauce, is a little thinner in texture.
Prior to eating, marinara sauce is baked and will also have less seasonings than pizza sauce, mostly of roasted garlic.
Pizza Sauce is:
Usually, pizza sauce is made of simple tomato sauce and tomato paste or pureed tomatoes.
It has a variety of ingredients, such as oregano, garlic salt, Italian seasoning, and onion powder.
The pizza sauce is then poured on top of the pizza dough in a thin layer and heated at the same time as the dough.
Pizza Sauce vs Tomato Sauce:
While tomatoes are used in the pizza sauce, there is difference in both tomato and pizza sauces ( 3). However, the tomato sauce itself isn't considered as condiment, while it is used in different dishes including pizza and pasta. The pizza sauce is made to be used for pizzas, and it has tomato as the base ingredient along with several different spices. Pizza sauce doesn't always have tomato as the base ingredient; there can be various other ingredients.
How to find the best tasting pizza sauce:
There is no specific answer to that, as every pizza sauce has its own ingredients and preparation method which may bring slightly different taste for everyone. However, you can decide what kind of taste you prefer for the pizza. Whether it can be spicy or sweet and what kind of ingredients you are looking for.
How to know if the Pizza Sauce Goes Bad?
There are different ways to tell such as if the sauce is too old or hasn't been protected according to suggestions, there can be visible mold which can be in different colors such as black or white on the lid of sauce. Even if it is placed in the refrigerator, the mold can grow there too. If you find the mold on the jar or can lid, it means the mold could be grown within the sauce too. In this case, you should avoid using the sauce as it can become harmful for you and your family ( 4).
Another way can be to notice the smell, which would be unpleasant and that can be time to avoid using it. In most cases, you can also check the expiry date of the sauce to be sure about it.
How to make Pizza Sauce at Home?
In case you want to make pizza sauce at your home, you can if you have the right ingredients. Here is an easy recipe for this:
Pizza Sauce Nutritional Information:
According to Nutritionix there are 34 calories in the pizza sauce per 0.3 cup (63 grams), 219mg sodium, 223 potassium and 1.4g of protein ( 5).
Buy them at eBay, Etsy, Walmart (subject to availability)
Pastorelli® Pizza Sauce - Original Italian Pizza Sauce made with Imported Extra Virgin - Walmart, Etsy, eBay
Don Pepino Pizza Sauce, 14.5 Ounce (Pack of 12) - Walmart, Etsy, Ebay
Chef Boyardee Pizza Sauce with Cheese, 15 oz, 12 Pack - Walmart, Etsy, Ebay
Godfather's Pizza Sauce, 14oz (3-Pack) No Added Sugar, Restaurant Style Italian Pizza - Walmart, Etsy, eBay
Muir Glen, Organic Diced No Salt Added Tomatoes, 15 oz (Pack of 12) - Walmart, Etsy, Ebay
Rao's Homemade All Natural Pizza Sauce -13 oz (Pack of 2) - Walmart, Etsy, Ebay
Contadina Pizza Sauce Bottle, 15 oz Bottle (Pack of 4) - Walmart, Etsy, eBay
Godfather's Pizza Sauce, 14oz - No Added Sugar, Restaurant Style Italian Pizza Sauce - Walmart, Etsy, Ebay
365 by Whole Foods Market, Sauce Pizza Organic, 14 Ounce - Walmart, Etsy, eBay
Full Red Fully Prepared Pizza Sauce #10 - Walmart, Etsy, Ebay
Conclusion for Pizza Sauce Brand Buyers

So in this article you learned about some of the best pizza sauce brands, the company profile and its comparison with some of the other types of sauces. If you have any questions, please do ask.