Like any other tea which is either black, green or oolong tea; contains some natural caffeine. So, does the lipton iced tea which has 48 mg caffeine per 20 oz bottle of the tea.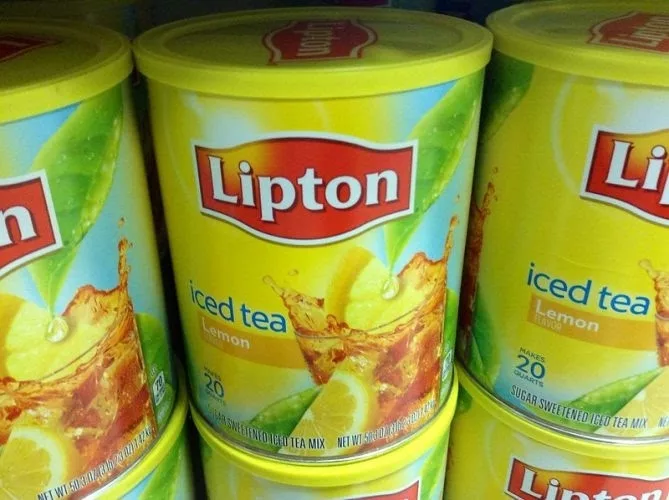 However, there are some exceptions to this caffeine content such as 48 mg is in the sweetened Lipton iced tea. Now, this means the caffeine content varies from one to other tea types of Lipton.
Caffeine in the Lipton Iced Tea Depending on Their Different Teas:
Every tea has its own taste along with many soothing properties. Likewise, Lipton has their different tea types which have different taste. However, to make sure what exact caffeine content every tea has; here is the list of these:
Lipton Lemon Iced Tea:
Let's talk about Lipton Lemon Iced Tea caffeine content, which is fairly 25 mg caffeine per 20 fl oz. This makes the Lemon tea lower in caffeine when compared with the sweetened version of this tea.
Here is what Lipton says about their Lemon Iced Tea:
They say something like;
A taste of brilliance for a better day. To make the most refreshingly delightful iced tea for you and your mates, Lipton's master mixologist has created a delicious combination of Lipton ® Iced Tea Mix with Lemon taste.
Brewed from natural herbs, Lipton Iced Tea Blends are still pure and pleasing in flavor. Enjoy the sweet flavor of the Iced Tea Blend from Lipton®.
With that said, you may have the idea how good Lipton Iced Tea would be, for example "low in caffeine and to start your day in the great way."
Lipton Peach Iced Tea:
Now it depends on your taste preferences, however, peach has the great taste and peach lovers know that. Here I am talking about peach as the real fruit. There isn't much difference in both Lemon and Peach Iced Teas when it comes to the Caffeine Content, because; Lipton Peach Iced Tea has 24 mg caffeine, which is 1 gram less than the Lemon Tea.
But again, it depends on the taste preferences such as what you select.
Here is what Lipton has to say about their Peach Iced Tea:
It is something like:
With the Soothing & Tasty Lipton black iced tea peach mix, taste Iced Tea in a few seconds.
Crafted from the true leaves of tea.
The best complement to every meal is the Delicious & Soothing Lipton Black Iced Tea Peach Blend.
Lipton Green Tea Citrus:
Once again, if you enjoy refreshing citrus drinks, this Citrus Tea can be more suitable for you. With 26 mg of caffeine per 20 fl oz, this tea wouldn't make much of a difference when compared with Lemon Iced Tea which is 25 mg with the similar quantity of the tea.
Here is what Lipton has to say about Green Citrus Iced Tea:
Their words are something like;
The Lipton Iced Tea you like to have in the fridge when you are looking for instant refreshment is Lipton Green Tea including Citrus. This green tea is full of great color, strength and clean taste.
Were these enough of the flavors you liked to know?
Alright, here are a few more:
Diet Raspberry Iced Tea:
This one is the great tea for those who are strictly not willing to drink iced tea with sugar. With no sugar and only 5 calories per serving you can enjoy the most refreshing taste of the iced tea.
Now, about the caffeine, by doing some search on Lipton's page, I found out this tea has about 10 to 25 mg caffeine per serving.
What are some Key Points of this Article?
Here are some Key Takeaways of the Lipton Iced Tea:
Most Lipton Iced Teas have 25 mg of caffeine per 20 fl oz.
Their Sweetened Iced Tea has 48 mg caffeine, which is more but not that much.
If you have any questions, please do ask.