Egg noodles are made from eggs along with wheat, while it can be rice flour too. The common definition is; these are made with unleavened dough. These look like any other noodles while usually these are smoother after cooking. Because of the ingredients egg noodles have; these are rich various B vitamins. Eating those noodles daily provide with 10% of daily nutritional needs for the body. These days there are various egg noodle brands. But, the best ones can be found after the search. We have searched some of the best brands of egg noodles so you can enjoy a delicious and healthy cup of noodles.
Editors' Picks: Top 5 Awesome Brands of Egg Noodles
What is Nutritional Value of Egg Noodles?
Eating egg noodles regularly can be healthy for you on a moderate diet. A cup of egg noodles (equivalent to 160g) provides you with 7.3 grams of protein and 1.9g is its Dietary fiber content. The total fat is 3.3g, while 61mg of potassium and 0.6g sugars.
Top 10
best brands of egg noodles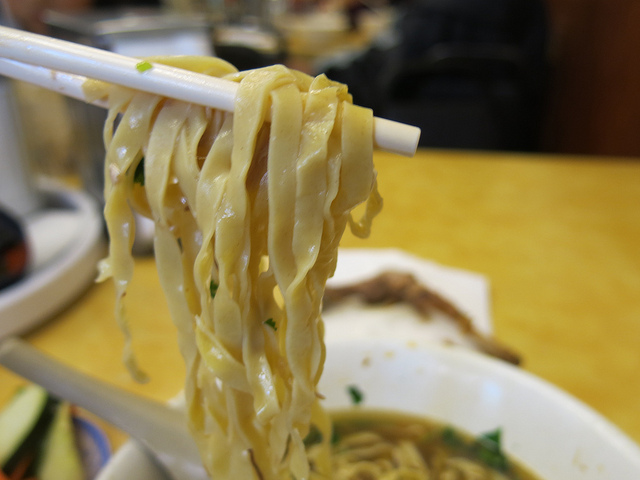 Here is the list of best brands of egg noodles:
1. Wel Pac Lo Mein Egg Noodles

These are one of the smoothest Asian-style noodles which cook quickly.
These noodles are round and chewy.
Another thing about these is; you can use these hot in winter and cold in summer according to your choice.
Serving Directions:
Add a 10 oz package of these noodles to six quarts of boiling water, while you do not need to add salt and oil. Cook it for about four minutes until it reaches to the tenderness you require. After that, simply drain these well. Some olive oil can make these delicious and you can also add your favorite dishes with it.

2. No Yolks Stir Fry Egg Noodle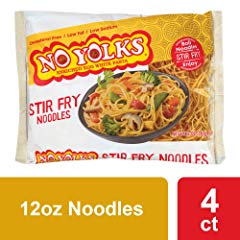 These noodles as the name suggests, contain eggs but not egg yolks and takes about 10 to 12 minutes to prepare.
The pasta shape of these noodles makes it great for side dishes, cold salads and various soups.
It is pack of 4, 12 ounce bags.
These noodles do not contain cholesterol and the fat and sodium content is low.

3. Blue Dragon Medium Egg Noodle Nests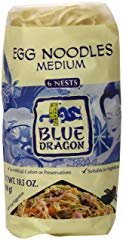 These are authentic egg noodles which are Trans fat free and GMO free.
Its each package comes with 6 one portion nests.
These are delicious with Stir fry sauces and these are easy to prepare.
By using these noodles you can turn your everyday dishes to various flavorful dishes.

4. Bechtle Mini-Lasagne Traditional German Egg Noodles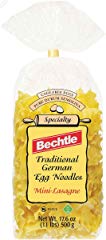 These noodles are made from raw ingredients along with the eggs from the chickens that are cage free.
These are GMO-free noodles.
Also, these noodles do not contain artificial colors or the flavors.
These noodles come in the 17.6 ounce bag.

5. SPAETZLE Egg Noodles by Hungarian Homemade Noodles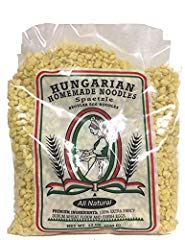 These noodles come in the pack of 3, and these are made from fresh eggs and 100 percent Fancy Durham Wheat Flour.
These have the unparalleled quality which is achieved by making these noodles in the small batches and only the fine ingredients are used in making of these.
These noodles come 3 packages which are 12 oz each package.

Health Benefits of Egg Noodles:
There are number of health benefits of egg noodles. Because
these are made of egg and wheat, these fit easily in different kinds of
lifestyles. Here are some of the benefits:
Enriched with B Vitamins
Because these contain various B vitamins, eating these regularly provides with different nutrition. B Vitamins like; riboflavin, folate, thiamine, and niacin add over 10 percent of daily nutritious value to the body.
Ways to Serve:
Like various noodles, you can combine egg noodles with different favorite dishes such as beef, fish or vegetables. Even you stir fry or cook these with various healthy ingredients; the taste is delicious along with the smooth texture. Another way is also adding these noodles with vegetable or chicken soup.
Egg Noodles vs Soba Noodles
The Egg noodles are made from wheat flour and eggs and soba noodles are usually made from buckwheat flour. or in a combination with wheat flours along with buckwheat flours. Egg noodles are prepared quickly.
Egg Noodle Recipe:
If you are new to egg noodles, don't worry these are not that complicated. These are also the similar to most of the other noodles. However, the difference is the nutritional value because of the ingredients these have.
Here is one of the Healthy and Delicious recipes:
Egg Noodles with Tofu & Other Vegetables
For this recipe you need some ingredients. That includes 3 onions, 500 grams of broccoli, 250 grams of chestnut mushrooms, 375 grams of natural tofu, 3 tbsp of sweet soy sauce, two garlic cloves. And egg noodles should be 250 grams.
Here is how to use these ingredients:
First you need to cut the onions in half rings, make four pieces of the chestnut mushrooms, make the strips of tofu and the broccoli florets. Mix the garlic cloves with the soy sauce by pressing the garlic cloves. And then add these to the tofu.
After that marinate for about ten minutes.
Then boil the broccoli in the sufficient boiling water for about 3 minutes.
Now, in the boiling broccoli add egg noodles so both can boil together.
After that heat some oil in a wok or a large pot and stir fry those onions along with the mushrooms for around five minutes.
Now add the tofu together with these and then stir fry these for about 3 minutes.
Then add the broccoli to it too and give it a minute more there.
At the end add some pepper and salt according to your needs or taste preferences.
The last step is to drain the noodles and it would be enough for four people.
Now as you have got your hot and favorite dish ready, do not let it cool and start enjoying it.
Buy them at Walmart, eBay, Etsy (quality guaranteed)
Riesa Thin Egg Noodles, 17.6-Ounce Bags (Pack of 12) - Walmart, Etsy, eBay
Blue Dragon Medium Egg Noodles - 100g - Walmart, Etsy, eBay
Bechtle Traditional German Egg Noodles Broad Noodles, 1.1 Pound (Pack of 12) - Walmart, Etsy, Ebay
Mrs. Weiss Kluski Egg Noodle 16.0 OZ(Pack of 2) - Walmart, Etsy, Ebay
MANISCHEWITZ Kluski Egg Noodles, 12-Ounce Bags (Pack of 12) - Walmart, Etsy, Ebay
Conclusion:
So now you learned about how healthy egg noodles really are and about some of the best brands of egg noodles. Please let us know in the comments if you have any questions.