If you are a tea lover, you may have enjoyed green tea and black tea. Oolong tea is in the middle of green and black tea. Now, it depends on the tea master on what level the tea leaves is processed. Depending on the oxidation process, oolong tea can taste like green, black or white teas. While it represents only 2% of world's tea, it has so many health benefits. Even if you are new to oolong tea, many people haven't even heard of it. To help you with it; we have searched 17 best brands of oolong tea, which are different from each other. It gives you a choice and understanding about the best oolong tea.
It is one of the Chinese Traditional Tea, which is made from the Camellia Sinensis leaves. Same leaf is used in making of green or black tea. It is only the process which makes it distinctive other tea. There are several oolong tea brands which can either be served as hot or cold tea too.
Top Brands of Oolong Tea by Editors' Picks
Here is a list of some of the best brands of Oolong Tea:
Top 17
best brands of Oolong Tea: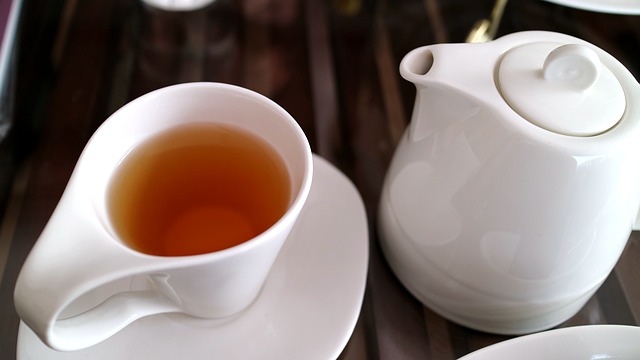 1. Prince Of Peace Organic Oolong Tea-100 Tea Bags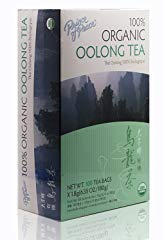 It contains 100 percent Organic Oolong Tea Leaves which come from Anxi District of Fujian in China.
The tea is semi-fermented which has combined qualities of black teas and green teas.
These are purely hand-picked and has delightful aroma.
It has a mild flavor along with bright golden color.
Each tea bag is wrapped individually and gives you new freshness.

2. Cha4TEA 36 Oolong Tea K Cups for Keurig K-Cup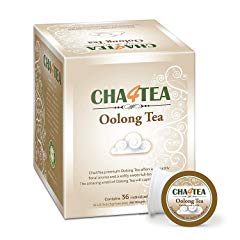 This tea is made by using 100 percent natural tea leaves and its ingredients are Green / Black Hybrid Tea.
It is a pack of 36 single-serving pods which can be used for Keurig K-Cups and you can use any Keurig brewers.
This tea is rich in antioxidants.
It has a slight sweet along with roasted character.

3. High Mountain Oolong Tea Leaves from Himalayas OOLONG TEA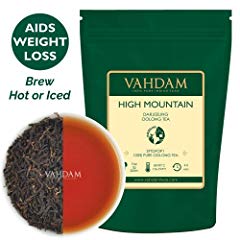 This tea is highly grown oolong tea loose leaf in the mystical plantations of Darjeeling, in India.
It is also popular as the 'Champagne of Teas'. This is also a great detox cleanse tea. It has a delicious flavor and great aroma.
Because being of a detox tea, this oolong tea is great for people who want to lose weight.
It is a 100 percent natural oolong tea and doesn't contain any added flavors.

4. Full-Flavored Oolong Tea Bags 150 Pack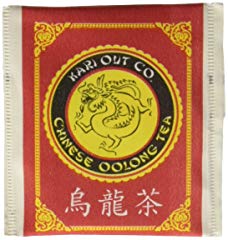 This tea contains the same full-bodied and smooth flavors which are in the traditional oolong tea and you may have enjoyed at Chinese restaurants.
It is brewed by using traditional methods, in which the leaves are dried under the sun, and then after shaking into baskets and then dried again.
Then those leaves are heated in the woks to stop process of fermenting. It is a pack of 150 tea bags.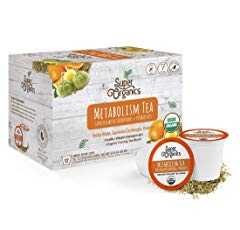 This tea is natural, organic, delicious and Non-GMO. Its ingredients are good for you and are gluten-free and vegan free.
This tea has the perfect formula for your health and wellness including Superfoods along with Probiotics which not only fulfills your taste needs but also keeps you fueled up for your day.
This tea is also infused with various tummy-taming superfoods including: Yerba Mate, Garcinia Cambogia, Orange, Rose Hip and Moringa Leaf also.

6. Teamonk Darjeeling Organic Oolong Tea for Weight Loss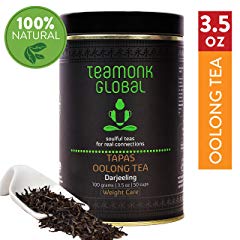 The leaves of this tea are plucked from select special areas from the estates in Darjeeling.
The leaves are rolled gently and these are also allowed partial oxidation so you get the oolong tea with an optimal balance of black and green tea.
It is 100 percent pure tea which doesn't contain any oils. It doesn't contain added aroma, free from any added flavors and it doesn't have artificial essences.
It is a traditional Chinese oolong tea and helps with heart disease, high blood pressure or stroke. This tea fights obesity and helps in losing weight.

7. Positively Tea Company Organic Hibiscus Tisane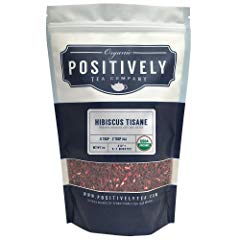 This organic hibiscus tisane herbal tea is made by using some of the beautiful and fragrant calyces of hibiscus flower.
The good thing about this is; you can serve it hot or cold as you like. Its flavor is bright and tart similar to cranberry.
It is free from caffeine and contains 100 percent Organic Hibiscus.
One pound of this Organic Hibiscus Tea will provide you with somewhere from 150 to 240 cups of this delightful tea.
It has number of benefits as it is high in vitamins, minerals and antioxidants naturally.
It is free from additives or preservatives.

8. REPUBLIC OF TEA Peach Blossom Oolong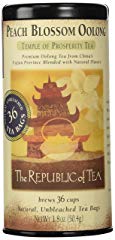 It is a semi-oxidized oolong tea which is grown along winding mountain streams in Fujian province of China.
Its each cup presents a bright flavor along with the pleasing flowery finish.
The oolong tea has less than quarter amount of caffeine per cup as compared to a cup of coffee with equivalent size.
It is free from Gluten, sugar-free, zero calorie, carb-free. It is Non-GMO Project Verified also.
Directions to Serve: Take six ounces of water and use one oolong tea bag with it. Steep for 3 to 5 minutes. If you want to have iced tea, you should double the amount of the tea and put some ice.

9. Pure Oolong Loose Leaf Tea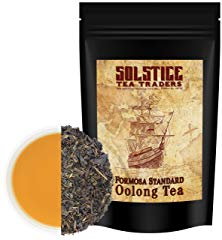 This oolong tea is leaf loose tea and it is originated from Taiwan.
It has different health benefits for digestion, skin and immune system.
It is also said to be beneficial for overall body.
Usually, it is described as in the middle of green tea and black tea.
It is not any of those teas yet it gives less bitter and refreshing experience.
Directions to Serve: To enjoy this oolong tea you can take 1/2 tsp or more in six oz water. Simply boil water and then cool it for 3 minutes and pour the water over the oolong tea and steep for 2 to 3 minutes and enjoy.

10. Stash Tea White Peach Wuyi Oolong Tea 18 Count Tea Bags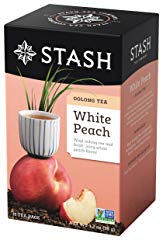 This oolong tea is blended with peach with a juicy and ripe flavor to give you sweet and mildly sweet tea.
This tea can either be enjoyed as hot or cold according to your needs.
And you can make it more delicious by adding a touch of honey or sugar.

11. Ten Ren King's Oolong Tea Loose Chinese/Taiwan Tea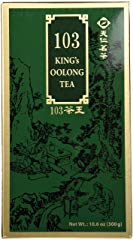 This tea is blended with a touch of ginseng to make a great aftertaste.
It has the light green-yellow hue.
It has fresh initial flavor and also a sweet floral aftertaste.
This is loose tea and is 300 g or 10.6 oz.
Directions to Serve: Take 2 teaspoons or 3 grams of tea leaves with 5 ounces or 150 ml water. The water should be 85 to 90 Centigrade. With steeping of 3 to 5 minutes it would be ready to enjoy.

12. Organic GABA Oolong Loose Leaf Tea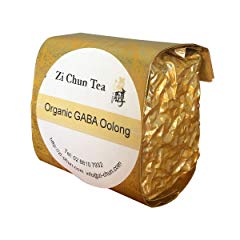 This oolong tea provides you with great relaxation while enjoying this tea, so you do not need any pills or tablets anymore.
It is a refreshing tea which you can enjoy it many times in the day.
Not only that, but it helps in weight loss and relieves stress also.
It is 100 percent organic tea and it is free from pesticides.
It contains 100 percent Camellia Sinensis tea leaves and doesn't contain any other ingredients and additives.

13. Bigelow Oolong Tea Bags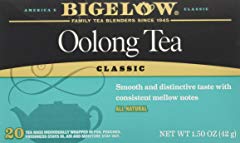 This tea has smooth and fresh flavor which you can enjoy on any occasions. It doesn't matter you make it hot or iced tea, it is great both ways.
Because this tea is wrapped individually in foil pouches, the flavor remains fresh along with its delightful aroma so you can enjoy it anywhere.
This tea is free from Gluten, free from calories and Kosher certified; it is beneficial for health.

14. Coffee Bean Direct Sechung Oolong Loose Leaf Tea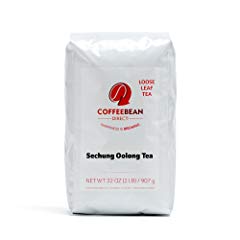 This tea is made of loose tea leaves of high quality and it comes with full tea leaves.
It contains 100 percent Sechung Oolong tea.
The tea leaves are packaged for an optimal freshness.

15. ONE ORGANIC Instant Tea Powder (Oolong)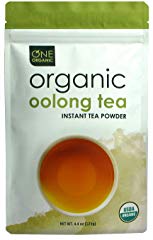 It is 100 percent organic tea and it is pure and doesn't contain sugar or sweeteners.
It is free from artificial ingredients or any preservatives.
This tea is certified organic, all natural and also Non-GMO.
It is loaded with antioxidants. The good thing about this tea is; you do not even have to wait for steeping or brewing.
It instantly dissolves when you add it to hot or cold water.

16. Wild Reserve Mountain Oolong Loose Leaf Chinese Tea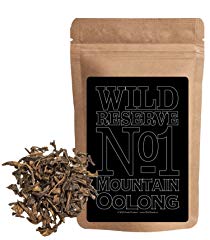 This oolong tea is a high-altitude Indian green tea which has the buttery aroma and flavor.
It is the Wild Oolong tea which has anti-aging properties.
It contains a number of vitamins and also is enriched with Carotene, Manganese, Potassium and Folate.

17. Harney & Sons Pomegranate Oolong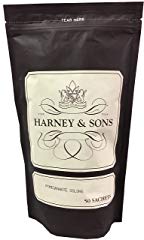 This oolong tea tastes lovely. It is light and refreshing along with strong pomegranate flavors.
It is a full-bodied blend which brews a cup of tea with a sweetly fragrant along with silky textured.
Because it is flavored with pomegranate, many tea lovers will like enjoying it.

Benefits of Oolong Tea:
The benefits of this ancient tea are quite surprising:
Lowers Cholesterol
It lowers cholesterol levels, as it has middle oxidation levels. This way it helps people with high blood pressure. Oolong tea is enriched with antioxidants and a regular cup of this tea helps with removing free radicals.
Strengthen Bones
Different studies suggest drinking oolong tea daily as it not only prevents tooth decay but also makes bones strong.
Calming Effects
Because oolong tea contains an amino acid which prevents glutamate receptors and resulting in a good decrease in stress levels, and gives you a calming experience.
Drinking this tea also reduces ulcers, acid reflux and inflammation in digestive tract. In other words it helps in improving digestive system. Because oolong tea is oxidized bit more than green tea, it has a stronger taste than that.
Comparison with Other Tea Types:
As we talked about oolong tea benefits, but have you ever thought how it differs from other tea types? Here are some of the tea types as compared to oolong tea:
Oolong Tea vs Green Tea
One of the main differences is the color. Green tea has usually light or dark green color, while you can find oolong tea in light brown. In health benefits comparison; the green tea contains more antioxidants than oolong tea, this way the green tea not only promotes mental focus but also helps heart health. However, many studies have found out that oolong tea helps with fat burning and weight loss much better.
Oolong Tea vs Black Tea
Some of the common known facts about both tea types are: Oolong tea is semi-oxidized while black tea is fully oxidized till it turns black. Another fact is because black tea has is black tea tastes much bitter as compared to oolong tea.
Here are some of the benefits of both tea types:
Because catechins in the oolong tea make fat oxidation faster, it helps in losing weight effectively. While, Low sodium content and calories in black tea manages weight gain. Oolong tea contains polyphenols which prevent free radicals and help with dark spot related skin problems. While, Vitamin B2, C and E and different minerals like potassium and zinc are helpful for skin care. Another tea type is white tea with has usually less aroma than green and black teas.
Is it Possible to Lose Weight with Oolong Tea?
Well by now there are way too many products and supplements which claim to have weight loss properties. I don't say these do not work, but you know, going for medicines and supplements is to welcome side effects along with the benefits. However, it isn't wise to give up what you eat, well it wouldn't work either, it may make you more sick, and you may get dehydrated by doing that, or get other serious issues.
However, many studies suggest adding oolong tea to your diet helps you lose weight without starving yourself or punishing by doing heavy exercises. One of the reasons of its effectiveness is; it is a natural and traditional Chinese tea, and these are popular for weight loss properties naturally. It is even more beneficial than green tea when we talk about antioxidants. The reason is; oolong tea goes through partial oxidization as it is dried under the sun before other processes. So, the antioxidants in the oolong tea help in fighting free radicals. Free radicals otherwise cause many harmful damages to the body along with gaining the weight. Aside from that, if you are looking for caffeine free tea for losing weight, rooibos tea is one of these.
Are there any Side Effects of this Tea?
It is a natural tea or you can call it true tea which usually doesn't have any side effects. However, people should watch for intake limits in different situations, such as:
If you are Sensitive to Caffeine
Even though it doesn't contain enough caffeine, however, if you are sensitive to the caffeine it might not be your cup of tea. In this case you should avoid drinking it. If you notice some changes after taking oolong cup, you should stop using it.
Pregnancy Situation
If a woman is pregnant or breastfeeding, too much oolong should be avoided. Not more than two cups a day. If you notice dizziness, nausea or any related feeling you should reduce to one cup or completely avoid it. While it is not about oolong tea but the caffeine content teas have. Many experts suggest 200mg caffeine is ok for pregnant women, not more than that.
How to Make Oolong Tea:
Methods of making oolong tea usually depend on the flavor you desire. However, here is an easy method to make oolong tea in this video:
Enjoying Oolong Tea with Different Things:
The oolong tea has its own great flavor, but in case you want to mix it up with different things; here are some of these which you should or should not add to the oolong tea.
Adding Milk to Oolong Tea
Oolong tea has its own flavor which may not taste that good with milk. So, it is better to serve the tea as it is. If you do not like the taste of the tea, the chances are that you may haven't brewed it the right way. Or the quality of the tea you have might be low.
Oolong Tea with Honey
Adding honey, lemon along with ginger to your cup of oolong tea not only gives you a great taste but also gives a boost to your immune system. It can be done simply by adding sliced ginger, 1/4 teaspoon of raw honey, a teabag of oolong to 300 to 500 ml of boiling water, here is the recipe.
Not only that but you can enjoy oolong tea with many different items including cinnamon and lemon.
Buy on eBay, Etsy, Walmart (subject to availability)
Organic Oolong Tea Bags | 20 Tea Bags | Eco-Conscious Tea Bags in Kraft Bag | Raw from - Walmart, Etsy, Ebay
Twinings of London Pure Oolong Tea Bags, 20 Count (Pack of 6) - Walmart, Etsy, eBay
Prince of Peace Organic Oolong Tea, 2 Pack - 100 Tea Bags Each – 100% Organic Black Tea – - Walmart, Etsy, Ebay
The Republic Of Tea Dragon Oolong Tea, 36 Tea Bag Tin - Walmart, Etsy, eBay
The Tao of Tea, Black Dragon Oolong Tea, Loose Leaf, 3.5 Ounce Tin - Walmart, Etsy, eBay
Teas' Tea Unsweetened Golden Oolong Tea 16.9 Ounce (Pack of 12), Sugar Free, 0 Calories - Walmart, Etsy, eBay
Super Organics Metabolism Oolong Tea Pods With Superfoods & Probiotics | Keurig K-Cup - Walmart, Etsy, eBay
Stash Tea Chocolate Mint Oolong Tea, Box of 100 Tea Bags (Packaging May Vary) - Walmart, Etsy, eBay
Bigelow Oolong Tea Bags 20-Count Box (Pack of 6), Caffeinated Oolong Tea, 120 Tea Bags - Walmart, Etsy, eBay