The first thing comes to the mind when talking about a vegetable soup is "taste". Because the soup is a mix of various vegetables and may need more ingredients to be delicious. But it isn't only about the taste, being a veggie soup it is nutritious and better in many ways. This soup becomes beneficial for weight loss and is good for a number of other reasons. So whenever you want to make a soup, you may need different vegetables and it can take so much of your time. Nevertheless, there are some excellent vegetable soup brands that come with pre-measured ingredients. The ingredients such as dried vegetables, vegan noodle soups, etc.
Editors' Picks: Top Vegetable Soup Brands for Making Healthy Soups for Vegetarians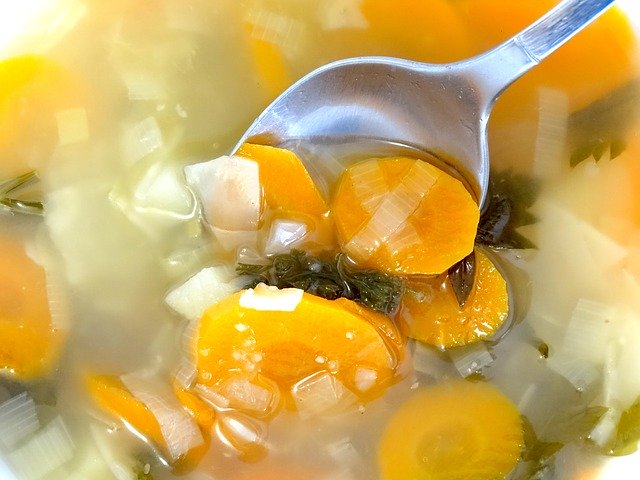 Vegetable Soup Types:
There are several types of vegetable soup which can either be single vegetable like cabbage or broccoli soup. Many soups are mixed veggie soup. Some veggie soups include; Borscht (made with the beetroot), Carrot soup, Cucumber soup, Tomato soup and many more.
Best Brands of Vegetable Soups:
Here is the list of some of the best vegetable soup brands for making healthy soups for vegetarians and those who are on different diets:
1. Frontier Co-op Soup Vegetables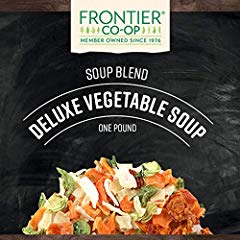 It is the combination of the different flavorful vegetables which includes carrots, potatoes, onions and peas.
These vegetables work great with different prepared dishes where vegetables are needed.
Adding the ground black pepper helps in enhancing the flavor and adds aroma to these.
It comes in the bag of 1 pound which is equivalent to 16 ounces.
The preparation of this soup is easy and doesn't take much time.
2. Campbell's Well Yes! Sipping Soup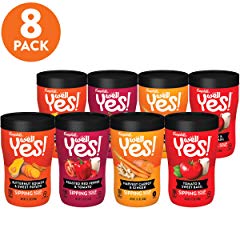 This sipping soup comes in the eight ergonomic cups which are 11 oz each.
The flavors are total 4 which mean 2 of each cup are same flavor soups.
Every cup of it is the vegetarian-friendly which provides with daily 35 percent or more requirement of your vegetable intake for the day.
This soup is Non-GMO and contains up to 170 calories or even less than that.
This drinkable soup can be added to your regular diet which you can enjoy at anytime and is convenient to take anywhere.
3. Premium Vegetable Soup Mix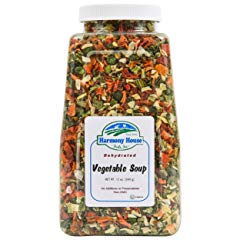 These vegetables are air-dried gently and are dehydrated at the peak of their nutritional value.
The 208 ounces of soup is made with only 12 ounces of this dried soup.
To enjoy this soup you don't have to wait for preparation time which regularly might take.
The only thing you need to do is to add water, cook it and then season it, it is really simple to make.
These are free from gluten and are Non-GMO also.
4. Mother Earth Products Dried Vegetable Soup Mix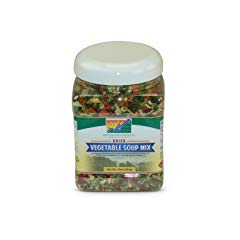 This soup is enriched with the different essential vitamins and minerals.
It is also great snack which can be used for camping along with different meals.
This dried soup mix can last long for up to 25 years when stored.
It is free from the gluten and also doesn't contain GMO.
It is 100 percent natural and doesn't contain additives.
5. Augason Farms Creamy Potato Soup Mix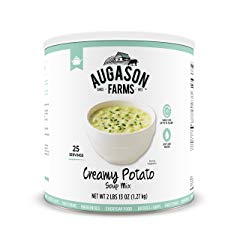 This potato soup box can provide you with 25 servings, 5500 calories and also has up to 10 years of the shelf life.
It is great food for survival and emergencies, for camping, surviving and for everyday use also.
To prepare it, you only need to add water to it.
6. Dr. McDougall's Right Foods Vegan Spring Onion Noodle Soup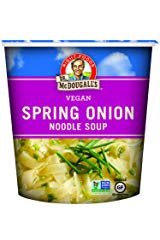 This vegetable soup is not only delicious but also pairs great with the rice noodles.
Even if you want you can eat it alone without adding with anything or add it to your favorite green salad to get more nutritional benefits.
Because this soup prepares quickly, you can enjoy it at weeknight dinners or for anywhere.
Simply add some hot water to it to serve and it also doesn't contain added oil giving you even more nutritious meal.
It is Non-GMO verified soup, organic and vegan-friendly.
Top Canned Vegetable Soups
Canned vegetables are better than packaged ones. It may not seem like it, but canned vegetables are actually better for you than some packaged ones because they're processed at a lower temperature and don't contain any preservatives. Because canning actually preserves most nutrients than packaged soups. So, canned vegetable or vegan soup would usually be most nutritious than packaged. But not always, you should always look for high quality soups when it comes to brands of canned soups.
7. Amy's Organic Lentil Vegetable Soup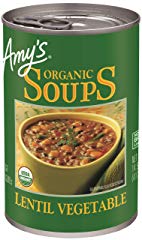 This canned soup is made from scratch by using the organic green lentils along with vegetables to give you the rich and also satisfying flavor of the soup.
It is free from the gluten, dairy free, free from GMO, Lactose Free and it is also USDA Organic.
This soup provides you with 11 grams of protein and 8 grams of the dietary fiber on per serving.
This soup is easy to prepare also.
8. Health Valley Organic No Salt Added Soup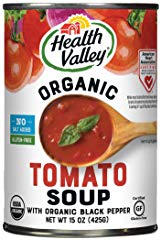 This canned soup is made by using the organic tomatoes and it is low in sodium and fat and has no added salt.
It is rich in fiber, Vitamin C and it is gluten free also.
It comes in the pack of 12 cans and each can is 15 oz.
Per serving of this tomato soup contains 60 milligrams of sodium which is not that much.
9. Wolfgang Puck Organic Signature Butternut Squash Soup (Pack of 12)
Wolfgang Puck Organic Butternut Squash Soup is an all-organic gluten-free soup by renowned chef, Wolfgang Puck.
Innovative cooking techniques and organic ingredients make this sweet treat full of health benefits for you and your family.
Use the convenient can for easy storage and takeaway.
10. Healthy Choice Country Vegetable Soup
Cooking is simple with Healthy Choice Country Vegetable Soup.
This low carb soup uses garden vegetables for its ingredients.
And you get 16g of net carbs per serving so you can enjoy the rich, satisfying taste of this Country Vegetable Soup.
It's also gluten free, high in Vitamin A & has 80 calories a cup.
The Healthy Choice brand was created so you could have healthy, tasty meals.
These soups are made with vegetables grown by American farmers and are an excellent source of fiber and vitamins.
11. Goya Foods Black Bean Soup
Goya Foods Black Bean Soup has a hearty and thick consistency and a delicious flavor that lends itself to layering with other flavors.
Add your favorite vegetables, spice it up with your own herbs and spices, or try it in one of our recipes.
It's perfect for soups, pasta, salads, or rice.
Gluten Free.
12. PACIFIC FOODS Organic Mushroom Condensed Soup
This organic Cream of Mushroom Soup combines the flavour of fresh mushrooms.
That includes cream and garlic to create a delicious thick base for your soups.
The flavours of this soup are so good, you will want to pour boiling water over a bowl and just drink it right up.
This is why they make soup bowls the shape that they do.
A savory base of mushrooms mixed with cream and garlic make this soup excellent for almost any soup.
Vegetable Soups vs Some Similar Foods:
Veggie soup is nutritious when comparing it with many other soups and dishes. However, you might also want to know about how it is different than other related foods, nutritiously and by taste. Here are some of these alternatives:
Veggie Soup vs Minestrone Soup:
A few ingredients of both soup types may be similar, but the difference in both is; veggie soup includes a number of healthy vegetables whereas, minestrone soup is made with the pasta and beans. Another difference is minestrone may include chicken broth or different meats.
Minestrone Nutrition:
On an average, one serving of minestrone soup provides you with 810 mg of sodium, 4 grams of dietary fiber, and 5 grams of protein and has 110 calories.
Veggie Soup vs Chicken Soup:
Now these both are different as you know chicken soup is popular and is beneficial for fighting against cold, flu and many other diseases. However, it all comes down to diet and lifestyle. If you are more into vegan or vegetarian diet, you would go with veggie soup. Both soup types come with different benefits. Those who enjoy the soup with chicken know how good it tastes. However vegetable soup can be enjoyed by adding different ingredients to it too.
Vegetable Soup vs Vegetable Broth:
There is a difference between vegetable broth and veggie soup, but not a lot of people know what that difference is. Broth is water that is simmered with vegetables in it and then strained, whereas soup is a liquid with vegetables, spices, and sometimes meat in it.
Is Vegetarian or Vegan Soup the Same?
Vegan soup and vegetable soup are essentially the same thing. The word vegan is used to describe a plant-based diet that excludes meat, fish, and dairy, while vegetable soup is just a soup made out of vegetables.
Benefits of Vegetable Soups:
Veggie soup contains a good number of vegetables which are rich in different vitamins and minerals. For example; carrots contain beta-carotene which converts into the vitamin A which helps the liver and flushes out the toxins from body.
Other than that, the sweet potatoes contain the vitamin D which supports the immune system.
Another common ingredient for a veggie soup can be ginger with anti-inflammatory properties for the body.
However, there are a number of other health benefits of veggie soup, such as:
Good for Diabetics:
If people with diabetes eat more vegetables; it would be better. Similarly, eating a veggie soup instead of other soups is good for them. Not only different vegetable ingredients have healthy nutrients but if the soup is prepared the right way, it becomes delicious.
An Alternative Soup for Vegans:
Because they enjoy most vegetables, a veggie soup adds a combination of healthy ingredients for vegans. Other than that, there are a number of vegan soup recipes which shows how delicious a soup can become.
Recipes:
If you want to prepare a vegetable soup but not sure how to do it, here are some recipes which can help you:
Veggie Soup with Lentils:
Vegans looking for protein foods may know how good lentils are to acquire the desired protein from the lentils. In the nutrition facts, lentils have 9 grams of protein per 100 grams serving, making it great for vegan or almost any diet.
Here is a lentil soup with vegetables recipe:
Vegan Barley Soup:
Another healthy soup is barley vegetable soup. The nutrition facts of barley describes that per 100 grams of barley serving adds 9.9 to 12.5 grams of protein to your diet and 15.6 to 17.3 grams of fiber. This makes it a good source of nutrients for vegans. Here is the vegan barley recipe video:
Vegetable Pasta Soup:
If you like pasta and enjoy it, vegetable pasta soup can give you a boost of nutrition while enjoying your favorite pasta. Here is the recipe for it:
Some Common Questions about Veggie Soup with the Answers:
So, you learned about veggie soups, benefits and similar dishes. However, you may still have some questions. Here are some commonly asked questions with answers:
Can Veggie soup be frozen?
Similar to other soup types, veggie soup can be stored in a refrigerator to keep it good for 3 to 4 days. However, keeping the cooked soup in the freezer can extend the quality for about 4 to 6 months.
Can the prepared veggie soup be left overnight?
It might happen if you somehow forgot to freeze it and left it outside, if it was covered it can still be good but you would have to boil the soup for 10 minutes. The reason is; chicken or beef soup can go bad and should be thrown away if left overnight. There is some discussion about it, where some people say if it is covered, it can still be good. However, it still wouldn't worth the risk to consume as you can prepare another soup in a short time.
Would the vegetable make you bloated?
It can, because depending on the vegetables you add to it, it may contain a lot of fiber which may cause bloating. However, there can be two reasons when vegetables may be causing bloating. One is you may be eating so many of these or another could be; you have increased the vegetable servings as compared to eating before.
Buy on Walmart, Etsy, eBay (quality guaranteed)
Progresso Light, Chicken Noodle Soup, Low Fat, 18.5 oz - Walmart, Etsy, eBay
Amy's Soup, Vegan, Gluten Free, Organic Kale, Quinoa and Red Lentil, 14.4 Ounce (Pack of - Walmart, Etsy, eBay
Amy's Soup, Gluten Free, Organic Chunky Tomato Bisque, Made with Onions, 14.5 oz (Pack of - Walmart, Etsy, eBay
Amy's Soup, Vegan, Gluten Free, Organic Black Bean Vegetable, Low Fat, 14.5 Ounce (Pack - Walmart, Etsy, eBay
Amy's Soup, Vegan, Gluten Free, Organic Chunky Vegetable, Low Fat, 14.3 Ounce (Pack of 12) - Walmart, Etsy, Ebay
Pacific Foods Organic Creamy Butternut Squash Soup, 32oz, 12-pack - Walmart, Etsy, eBay
Pacific Foods Organic Vegetable Lentil & Roasted Red Pepper Soup, 17 oz (Pack of 12) - Walmart, Etsy, Ebay
Pacific Foods Organic Vegan Creamy Tomato Basil Soup, 32oz - Walmart, Etsy, eBay
Conclusion:
So in this article you learned about some of the best brands of vegetable soups, its alternatives, benefits and recipes. If you have any questions, please do ask.