Chili powder is combination of one or more types of chili pepper usually with several other spices. Even though chili powder and chili pepper look similar names but these aren't the same. Whereas, chili pepper alone is hotter than chili powder. That is because chili powder may include spices like garlic powder, cumin, oregano and few others, which usually lower the heat but make the food flavorful. How much hot the chili powder would be depends on the spices which these are made with. It can vary from one brand to another. There are so many brands of chili powder by now and you may have to think many times about which can be better for your recipes. This article is to help you with some of the best brands of chili powder, types and health benefits.
Editor's Recommendation: Top Brands of Chili Powder
Top 12 Best Brands of Chili Powder:
Here is a list of some of the best brands of chili powder to add a great taste to your dishes: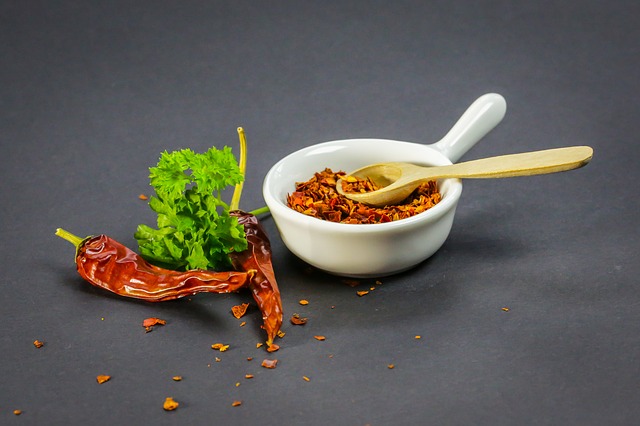 1. Kiva Gourmet Smoked, Ghost Chili Pepper Powder (Bhut Jolokia)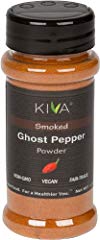 This is 100 percent pure Ghost Chili Pepper and this chili powder is smoked dried and gives delicious and smokey flavor to your dishes.
This is made by using the world's one of the hottest peppers, the ghost pepper which is also called as Bhut Jolokia.
It is rated very high for being very hot pepper which is 1,042,400 Scoville Heat Units.
Because it is very hot, you should add it very sparingly, even the small quantity can work great for various dishes including different vegetables, meats and dips.
2. House - Shichimi Togarashi - Japanese Mixed Chili Pepper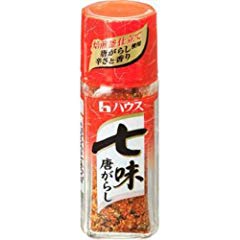 This chili powder gives you a flavorful seasoning to a number of dishes such as noodle soups and many others.
This seasoning contains some good ingredients such as; red chili pepper, Japanese pepper, orange peel, ginger, seaweed and sesame seeds.
It comes in 0.63 oz. This blend of spices is Japanese popular blend.
3. Rani Kashmiri Chilli Powder (Deggi Mirch) Ground Indian Spice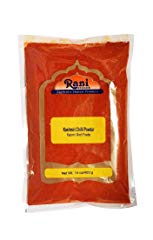 It is all-natural chili powder and doesn't contain any preservatives and it is non-GMO.
This chili powder is gluten-free and also vegan friendly.
It has a great color and mild heat characteristics which makes it good for many dishes.
Because the seeds are removed in the process, its SHU is 12,000 to 15,000 making it ideal for people who prefer the chili powder with lower heat.
4. 100% Pure & Raw Smoked Ghost Pepper Powder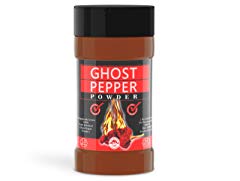 It is another Ghost Chili Powder which is smoked dried for the unique and delicious flavor.
Its small amount would be enough for different dishes. It doesn't contain any additives or preservatives.
It is non-GMO and it is grown organically.
5. Korean Chile Flakes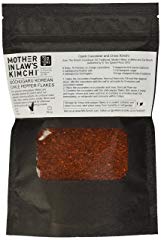 This chili powder has a unique balance or earthiness, complexity and spiciness.
These chili flakes are made by using the premium peppers.
These also help in making the best tasting homemade kimchi and you can also add it to any dish.
It comes in 8 oz bag.
6. Tone's Chili Powder

It is made from the mild blend of chili peppers, salt, garlic and other spices.
This chili pepper has a red-orange color and has sweet chili flavor.
It is great for various Mexican foods such as tacos, enchiladas, burritos and quesadillas.
Not only that, there are many other uses such as you can also mix it with chili and various other tomato based products.
And it is also perfect for different seasoning such as sauce mixes, barbecue sauces and dips.
7. Ancho Chile Powder 4 oz Ounce Ground Chili Natural Seasoning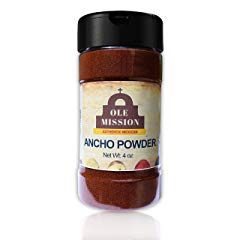 This chile powder is essential for authentic Mexican Cuisine and it is 100 percent natural and hand selected powder.
It comes in the tamper proof ground season shaker which is 4 oz.
This Ground Ancho Powder is best for so many sauces and it helps you to add more texture to your different recipes and dishes.
8. McCormick Gourmet Chipotle Chile Pepper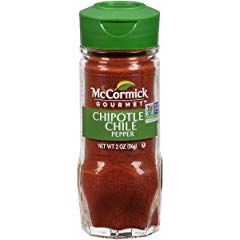 This Chipotle Chile Pepper is another essential ingredient for the Mexican Cuisine and it adds smoky and mild heat to your recipes.
Because it is all-natural, it works as a healthy ingredient for your family.
Not only that you can also add spiciness to different dishes including; soups, salsas, marinades, chilis and many more.
9. Chung Jung One Korean Bidan Red Chili Pepper Flakes Powder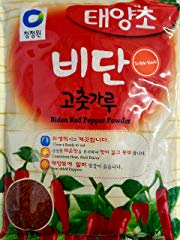 These chili pepper flakes are clean and ready to eat.
The peppers are sun dried and these have rich flavor.
Because these have the vibrant redness these are given a name as BIDAN referring to ground pepper silkiness.
The spiciness and original taste of these peppers is preserved which spices up your dishes.
10. Jovy Acirrico Sour and Hot Chilli Powder with Salt and Lemon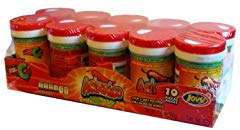 This chili powder makes your foods delicious and you can simply pour it over different fruits such as mango or watermelon.
This chili powder contains salt and lemon too, which gives an intriguing flavor to your dishes.
It is a seasoning which your guests will also enjoy.
11. Yimi Premium Whole Dried Chilies, Chinese Dry Red Chili Peppers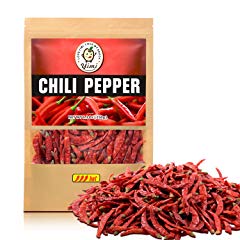 This hot chili is super hot that it bit your taste buds and tongue as its spicy aroma is strong and its Scoville Heat ranges from 30000 to 50000.
These peppers are dried under the sun naturally without use of additives.
For South Asian cuisine it is an essential ingredient such as dishes like: Orange Chicken, KungPao Chicken, Sichuan hot pot, chili paste, Tofu and chili oil.
12. Jiva USDA Organic Red Chilli Powder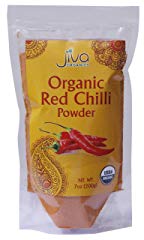 This chili powder adds the spicy hot flavor to a number of Indian curry dishes such as; vegetable dishes and lentils.
This chili powder is grown without using chemicals, fertilizers, colors or pesticides.
It comes in the 7 ounce bag.
Is Chili Powder Healthy For You?
The chili powder is a blend of natural spices. Good taste
isn't the only thing to achieve, but it also has a number of health benefits.
Here are some of these:
Generating New Red Blood Cells:
Because iron and copper are good for growth of red blood cells, the powder of multiple good spices provide with essential nutrients to body. Hence growing new blood cells, but not only that it also helps in maintaining blood pressure in a healthy way.
Improves Immune System:
The vitamin C in chili powder not only helps your immune system but also heals different infections and injuries. Even if it is a tablespoon of chili powder, it contains 8 percent of daily vitamin C requirements. And because vitamin C is an antioxidant, it helps body to fight the free radicals and improves immune system.
Chili Powder Alternatives:
Different spices may look similar in color and it can be
easy to confuse chili powder with any other hot pepper powder. But depending on
the ingredients these are different in taste and spiciness. It doesn't matter
how similar two powder look like, you can tell by reading the ingredients on
the box if it was a brand with ingredients written on it. However, lets talk
about how chili powder is different from other similar spices:
Chili Powder vs Cayenne Pepper:
Even with a similar look both of these spices taste different and are used for various recipes. Cayenne pepper is hotter as it has 30,000 to 50,000 Scoville Units heat whereas many versions of the chili powder are around 500 to 1,000 Scoville Units with a mild heat for your recipes.
Chili Powder vs Chile Powder:
Both of these names look similar but there is much
difference when it comes to flavor. The reason is chili powder is combination
with more than one spices, whereas chile powder is pure ground pepper with no
additives. The chili powder has more than one ingredients and it is great for
different types of food including seafood, vegetables, fruits, and many others.
Chili Powder Nutrition Facts:
This powder is used in small quantity and still has some
good nutrients. With only a 1 tsp equivalent to 2.7 grams of chili powder it
has 16 percent of vitamin A and 2.6 percent iron. It also contains 77 mg sodium
and potassium 53 mg.
Buy on Etsy, eBay, Walmart (subject to availability)
Kiva Gourmet Smoked, Ghost Chili Pepper Powder (Bhut Jolokia) - Non GMO, Vegan, Fair Trade - Walmart, Etsy, Ebay
7 Pepper Spice Mix (Nanami / Schichimi Togarashi) - 1 bag, 10.58 oz - Walmart, Etsy, Ebay
House - Shichimi Togarashi - Japanese Mixed Chili Pepper 0.63 Oz - Walmart, Etsy, Ebay
1-Pound Premium Ground Ancho Chile Pepper Chili Powder - Walmart, Etsy, eBay
Frontier Co-op Chili Powder Blend, Certified Organic, Kosher, Salt-Free, Non-irradiated | - Walmart, Etsy, eBay
Simply Organic Chili Powder, Certified Organic | 2.89 oz - Walmart, Etsy, eBay
Frontier Co-op Salt-Free Chili Powder 1lb - Walmart, Etsy, eBay
Piment d'Espelette - Red Chili Pepper Powder from France 1.41oz - Walmart, Etsy, Ebay
Thai whole dried chile - 3.5 oz - Walmart, Etsy, eBay
Watkins Gourmet Spice, Organic Chili Powder, 16.1 oz. Bottle, 1 Count (21803) - Walmart, Etsy, Ebay
Watkins Gourmet Organic Spice Jar, Chili Powder, 2.9 Ounce Jar, 3 Count - Walmart, Etsy, eBay
Soeos Premium Sichuan Chili Powder 8oz(226g), All Natural, Asian Chili Powder, Savory - Walmart, Etsy, eBay
Soeos Chili Flakes 7oz (198g), Non-GMO, All Natural, Premium Sichuan Chili Flakes, Medium - Walmart, Etsy, Ebay
Dwaraka Organic - Red Chili Powder, 7oz, Healthy, Organic, Non GMO, All Natural - Walmart, Etsy, eBay
Morton & Bassett All Natural Chili Powder -- 1.9 oz - Walmart, Etsy, eBay
McCormick Dark Chili Powder, 20 oz - Walmart, Etsy, eBay
Gebhardt Chili Powder, 3 ounces - PACK OF 3 - Walmart, Etsy, eBay
Amazon Brand - Happy Belly Chili Powder, 2.75 Ounces - Walmart, Etsy, Ebay
Spice Appeal New Mexican Chili Ground, 16 Ounce - Walmart, Etsy, eBay