There are different fruit juices with various benefits. However, cherry juice is one of the drinks that is loved by most people because of its distinctive taste. The juice isn't only consumed alone, but can be used in different recipes. Because of its nutritional values it is also common in supplements for different uses. If you drink cherry juice because you love it, you would be glad to know that it has different benefits such as it reduces arthritis and is healthy for the heart. Like other juices, there are different cherry juice brands depending on your favorite flavor.
Editor's Recommendation: Top Cherry Juice Brands Reasons to Drink It Regularly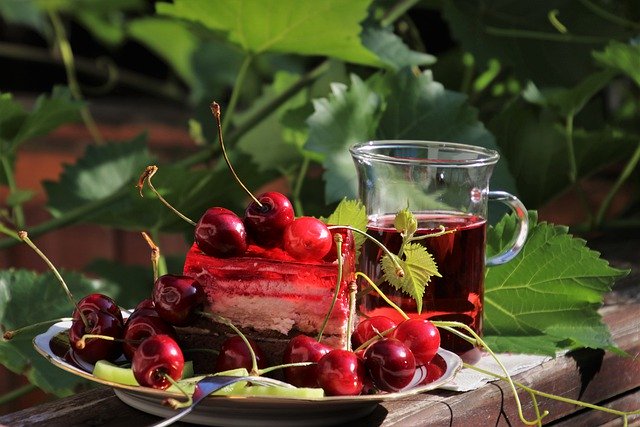 What Are Some Kinds Of Cherry Juice:
With different kinds, tart cherry juice is sour in taste whereas, black cherry juice has the sweeter taste when comparing it with tart cherry. Similarly, tart cherry juice is high in the anthocyanins whereas, black cherry juice is low in these.
Top 5 Best Cherry Juice Brands:
Here is the list of some of the best cherry juice brands for great taste and health benefits at the same time:
1. Dynamic Health Organic Tart Cherry Juice Concentrate - Link
This organic tart cherry juice concentrate is 100 percent pure and provides different nutritional values.
It is free from the additives and preservatives.
This concentrate is heart healthy naturally and you can mix it your own way for tea, water, cocktail, yogurt topping and more.
It is made of sun-ripened cherries and provides you with a great taste.

2. Cherry Bay Orchards Tart Cherry Concentrate - Link
With the delicious flavor of cherries this juice of tart cherries gives you an unmatched taste.
It doesn't contain any artificial flavors or colors.
The ingredients of this cherry juice are all natural.
This juice comes in the easy to use bottles which are convenient.
With this juice you can mix it to your favorite drinks.
Not only is it heart healthy juice but also helps with the arthritis pain.
This juice doesn't contain caffeine and is GMO free.
It doesn't contain preservatives or added sugar.

3. Bai Bubbles, Bolivia Black Cherry, Antioxidant Infused Drinks - Link
It is also a cherry fruit drink but it is sparkling juice giving your bursting bubbles in the drink so you enjoy both things together, the taste and sparkling water.
This juice is a low calorie drink with the fruit flavor without use of the artificial sweeteners.
It doesn't contain GMO or gluten and it is a vegan friendly drink.
It also contains 45 mg of the caffeine in the can, whereas, the calories are only 5 along with 1 gram of the sugar.

4. Sparkling Ice, Cherry Limeade Sparkling Water - Link
It is another sparkling water with the cherry fruit flavor which contains zero sugar.
This juice is enriched with the antioxidants along with the vitamins.
It contains naturally sourced colors and has natural flavors.
Not only it is the fizzy sparkling water, which has sweetness of the cherries.

5. 7-Select Organic Cold Pressed Juice - Link
This vegetable and fruit juice doesn't contain artificial colors and flavors.
It contains 5 fruits and vegetable juices which includes tart cherry and more to give you nutrition and taste.
Not only that, this juice is also free from dairy, gluten and it is all vegan to give you the great flavor.
This juice comes in the glass bottles.
What Are Some Benefits Of Drinking Cherry Juice?
Cherry juice is not only great in taste, but the benefits it has are enormous. Here are some benefits:
Improving Sleep:
Cherry juice helps in improving sleep. According to a research two servings of an ounce of tart cherry juice regularly improved sleep efficiency in adults. They were able to sleep more than regular sleeping.
This way tart cherry juice helps with insomnia.
Reduces Inflammation:
This juice also helps with reducing inflammation and helps people with arthritis. So, drinking the glass of cherry juice a day can be beneficial for reducing inflammation and arthritis.
Help with Acid Reflux:
Because cherries contain vitamin C, vitamin A, amino acids and antioxidants and high water content, these not only help with the digestion but also in reducing acid reflux.
Black Cherry Juice vs Tart Cherry Juice:
Both juices are made of cherry whereas, one of the differences is taste. Black cherry is sweet whereas tart cherry is sour. Other than that, Black cherry is higher in calories than tart cherry. In black cherry juice there is 33 grams of the natural sugar, whereas, the tart cherry has about 25 grams per cup which is lower than the black cherry. Both juices are free from fat. The protein in black cherry is 2 grams whereas 1 gram in the tart cherry juice.
How To Make Cherry Juice At Home:
Cherry juice brands are popular and these come handy. However, you can make cherry juice at home. Here is a video on how to do that:
Do Both Black And Tart Cherries Have The Same Values?
Black and tart cherries have different benefits depending on the nutritional values. Here is how these are beneficial:
Black Cherry:
These cherries are good for overall health including; it reduces arthritis pain. And it is also useful for muscle recovery for post-exercise. Black cherry juice is also great for reducing headaches.
Tart Cherry:
Similar to black cherries, tart cherries also help with arthritis and are rich in antioxidants. It reduces muscle soreness, improves sleep, helps in weight loss and reduces blood pressure.
Some common questions asked about cherry juice:
The cherry juice is beneficial in many ways, however, you may have some questions. Here are some common asked questions with answers:
1. After opening the juice, how long can it last?
Once opened, you should refrigerate it, in the freezer it can last for about 9 to 12 days according to Cheribundi juices.
2. How much cherry juice is too much to drink?
Drinking an ounce or two ounces is the right dosage for the day. If you drink too much cherry juice, it may cause stomach pain or other related problems.
3. Can cherry juice help you lose belly fat?
Yes. Drinking cherry juice regularly can help you lose belly fat along with different benefits.
4. Can diabetics drink cherry juice?
Even if the cherries are sweet or tart, these contain chemicals which boost the insulin which helps to control the blood sugar. According to many studies drink the tart cherry juice helps with diabetes as it is one of the eight benefits of cherry juice.
Buy now at Etsy, eBay, Walmart (subject to availability)
100% Pure Red Tart Cherry Juice Concentrate by FruitFast - Brownwood Acres | Unsweetend, - Walmart, Etsy, eBay
Lakewood Pure Tart Cherry, Fresh Pressed, (32 Fl Oz (Pack of 6)) - Walmart, Etsy, Ebay
Country Spoon Montmorency Red Tart Cherry Juice Concentrate (32 oz.) - Walmart, Etsy, eBay
Cherry Bay Orchards Tart Cherry Concentrate - Natural Juice to Promote Healthy Sleep, - Walmart, Etsy, eBay
Swanson Tart Cherry Juice Concentrate 16 fl Ounce (1 pt) (473 ml) Liquid - Walmart, Etsy, eBay
Dynamic Health Organic Tart Cherry Juice Concentrate | 100% Pure | 16 Servings - Walmart, Etsy, eBay
Cheribundi Tart Cherry Juice, 32 Fl Oz (Pack of 3) - Walmart, Etsy, eBay
Conclusion:
So in this article, you learned about some of the best cherry juice brands and its different types. And also, why should you be drinking it regularly. If you have any questions, please do ask.