In Asian countries, rice noodles are very popular. But in the Western world they are becoming more and more well-known. The kind of noodles are made from rice. This is because rice is already a good source of nutrients, and the noodles add more nutrition and a great taste. In this article we're going to talk about a few brands of rice noodles, and one recipe.
Editors' Picks for Top Brands of Rice Noodles
How To Prepare Rice Noodles?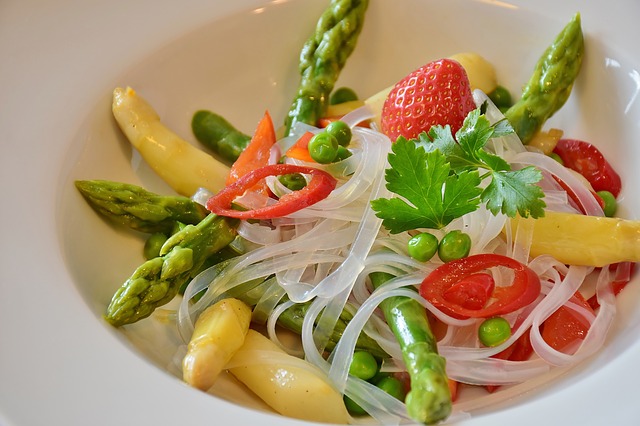 Rice noodles usually have a short cooking time, and you only need to cook them for 3 to 5 minutes till they are soft. Also, the right cooking time depends on the quantity and type of noodles. The heavier the noodles, the prolonged the cooking time. Thick rice noodles have a preparation time of up to 15 to 20 minutes. Rinse the noodles with sufficient cold water immediately after cooking.
Cooling Process of Rice Noodles
The cold water stops the cooking process. Rice noodles are added to the ingredients at the end of preparation. They absorb the flavors of the vegetables and (possibly fish or meat) if you let them simmer for a few minutes. You can bake dried rice noodles in oil. They will swell. You can cut rice skins into broad ribbons and lightly bake with sauce, or fill with vegetables or meat. Rice vermicelli is the thinnest type. This vermicelli is not only famous for the soup, but you can also use this type in stir-fry dishes.
Rice noodles are made from raw rice flour and water dough. These come in many forms and sizes, both fresh and dried. In Chinese food ultra thin spaghetti-like rice noodles are used, but also large varieties, so-called rice skins made from rice. These rice sheets are also popular as bars or rice sticks. Rice noodles manufacture from rice flour and water. It is formed into a dough and then dried in the desired shape. Rice noodles have a grey-white to the translucent color. Additionally, rice noodles can be enjoyed by adding some horseradish sauce or other your favorite salad dressing.

Brands of Rice Noodles
As rice noodles are widely popular and are eaten by many people. While, there are different kinds of rice noodles and if you are new to these, it might be challenging for you to find good quality noodles. To help you, here are some of the best brands of rice noodles below:
1. Thai Kitchen Gluten-Free Stir Fry Rice Noodles
Thai Kitchen Stir Fry Rice Noodles


Product Description:
These are easy to prepare delicious noodles which can be used for Pad Thai and different stir fry dishes. These gluten free noodles are good for steam cooking and are healthy South Asian meals.
Free from fat and egg. 100 percent pure, vegan and dairy free. These are also all-natural and do not contain wheat and cholesterol.
2. Lotus Foods Rice Ramen Noodles with Miso Soup
Lotus Foods Rice Ramen Noodles Miso Soup
Product Description:
Comes with 10 bags 2.8 oz each. These are traditional noodles giving you Japanese style dish. These wheat-free noodles and contain rice and take about 4 minutes for preparation. These noodles are contain whole grain and are low fat vegan, which are easy to digest. Containing non-GMO rice which has 25 percent less sodium. It is a great alternative to pasta and made from whole grain organic rice.
3. Annie Chun's Gluten-Free Brown Rice Noodles
Annie Chuns Gluten-Free Brown Rice Noodles
Product Description:
These can be perfectly used for Pad Thai or your different choice of dishes. These are dry noodles, which are 100 percent whole grain as well as these include of brown rice.
Their delightful texture make them a great alternate to regular pastas.
4. Crystal Noodle Soup Variety Pack
Crystal Noodle Soup Variety Pack
Product Description:
These noodles are prepared very easily within 3 minutes. These contain six different kinds of Mushrooms, Savory Shoyu, Hot & Sour, Spicy Sesame Paste, Spicy Tofu and Vegetable flavors. These aren't only good for serving at home but also good for kids as school lunch or for adults on their work. Also, These gluten free vegetarian noodles contain 0% trans fat.
5. Roland Rice Vermicelli
Roland Rice Vermicelli
Product Description:
Rice Vermicelli, known as rice noodles are popular in the Asian world of culinary. It can become delicious by adding different surrounding flavors. The rice vermicelli can be delicious in all kinds of your favorite recipes.
This is product of Thailand and are gluten free and do not contain trans fat.
6. Rice Stick Vermicelli Noodles
Rice Stick Vermicelli Noodles
Product Description:
These Rice Stick Noodles have a mild flavor and for this reason these can be used in all kinds of matching dishes. Because these do not contain wheat or egg, it makes these gluten free. To enjoy these you should soak in boiling water around eight to 14 minutes off the heat till these become soft. And then you should drain the water and you have your rice noodles ready and now you can add sauces or dressings etc.
When boiling, they turn white to white yellow. You can find dried rice noodles in every significant market. Dried rice noodles are good to store for a very long time. Check the information on the packaging before the expiry date. At the Asian market, they have a more extensive variety of rice noodles, including the fresh ones. Moreover, you cannot always place Fresh rice noodles in the fridge. Put them in hot water and wait until they have become soft enough to separate them from each other gently.
Rice Noodles With Beans and Broccoli
Serving Size (Good for Four People):
250 grams of rice noodles
15 haricot beans
One broccoli
One onion
400 grams of shrimp
12 tablespoons of soy sauce
Four tablespoons of sesame oil
Three garlic cloves
ginger (2 cm piece)
lime
Here is the Recipe
Cut the green beans into pieces and the broccoli florets in half lengthwise.
Boil the beans for ten minutes and the broccoli for 5 minutes until they are firm.
Puree the garlic and the ginger. Mix this with the soy sauce and sesame oil into a sauce.
Cut the outing nicely.
Prepare the noodles according to the packaging.
Heat some quantity of oil in a wok and cook the outing.
Add the shrimp and fry for 2-3 minutes.
Add the vegetables and fry them.
Now mix the noodles through the whole.
Divide the entire over four servings and finish with the sauce. First, press a quarter of lime on each plate.
Now it becomes ready to serve.
Buy on eBay, Etsy, Walmart (subject to availability)
Asian Best Premium Rice Stick Noodle, 16 oz (3 Pack) - Walmart, Etsy, eBay
ONETANG Organic Black Rice Noodles 100% Organic Black Rice Gluten-Free Ramen Noodles - Walmart, Etsy, eBay
Three Ladies Brand Rice Stick Noodle - 14 Oz. (Pack of 3 Bags) - Walmart, Etsy, Ebay
Ka-Me Organic Rice Noodles, Vermicelli, 8oz. Bags, 6 Pack (470653), Brown Rice Noodles, - Walmart, Etsy, eBay
Lotus Foods Millet & Brown Rice Ramen With Miso Soup, Gluten-Free, 2.8 Oz (Pack Of 10) - Walmart, Etsy, eBay
Thai Kitchen Gluten Free Stir Fry Rice Noodles, 14 oz (Pack of 6) - Walmart, Etsy, eBay
Explore Cuisine Organic Brown Rice Noodles - Family Pack - 2 lbs - Healthy, Whole-Grain - Walmart, Etsy, Ebay
Vietnamese Rice Stick(vermicelli) Three Ladies Brand 2lbs - Walmart, Etsy, eBay
Rice Noodles, Brown Rice Noodles, Ramen Noodles Alternative, Non-GMO, Pad Thai Noodles, - Walmart, Etsy, Ebay
Viet Way Rice Noodle Sticks for Pho, 14oz (3 Packs) (S) - Walmart, Etsy, eBay
Thai Kitchen Gluten Free Thin Rice Noodles, 8.8 oz,(Pack of 6) - Walmart, Etsy, Ebay
Taste Of Thai Noodle Rice gluten free Extra wide, 16 oz - Walmart, Etsy, eBay
Fine Rice Noodles, Vermicelli, All Natural, No Preservatives, Vegan and Gluten-Free, - Walmart, Etsy, Ebay
Viet Way Rice Noodle Sticks for Pho, 14oz (3 Packs) (M) - Walmart, Etsy, eBay
La Choy, Rice Noodles, 3oz Canister (Pack of 4) - Walmart, Etsy, eBay
Dynasty Maifun Rice Stick, 6.75 Ounce (Pack of 12) - Walmart, Etsy, eBay
COOK SEE Kimchi Flavored Rice Noodle 3 Oz [6 Pack] - Delicious Korean Instant Not-Fried - Walmart, Etsy, eBay
Annie Chun's Maifun Rice Noodles, 8 oz - Walmart, Etsy, eBay
TANISA Moringa Rice Noodles, Green Gluten-Free Noodles, Vegetable Vermicelli Noodles with - Walmart, Etsy, Ebay
Thai Kitchen Gluten Free Thin Rice Noodles, 8.8 oz - Walmart, Etsy, Ebay