By now there are so many teas around that we do not know what exactly is every tea about aside from green tea and black tea. But here is the good thing, every tea comes with its own benefits. Not to mention teas from white to black are made of the same leaf: Camellia Sinensis. What sets these aside, is the oxidation process which results in low to more antioxidants and at the same time light to strong taste. Simplicity Teas, solve the problem of thinking about all the different teas like; black, white, oolong, rooibos, herbal and you name it. This article helps you understand more about Simplicity Teas and why is this good.
Here is how:
Simplicity Teas offers a monthly subscription box which includes most of their teas including; all those mentioned above from black to white teas. This way you are out of the guesswork and start to enjoy every flavor and notice the benefits by yourself. Because the Simplicity Teas subscription box would include all the good flavors in their own packing, this is your choice which you want to drink and when.
Something you should know, there are many kinds of artisan loose leaf teas, that are becoming popular. As you can see cratejoy has so many small to big tea companies. There's a huge market for artisan loose leaf tea and it's only getting bigger.
Also, drinking the right loose leaf tea, usually herbal ones help you get the best sleep of your life.
The Founder:
After reaching out to the Simplicity Teas Founder Carolyn S., I came to know they have the monthly subscription option for their teas. When you join their monthly club, you receive a subscription box of different teas, which are packed individually. Take a look at this image, here is what you receive as a box.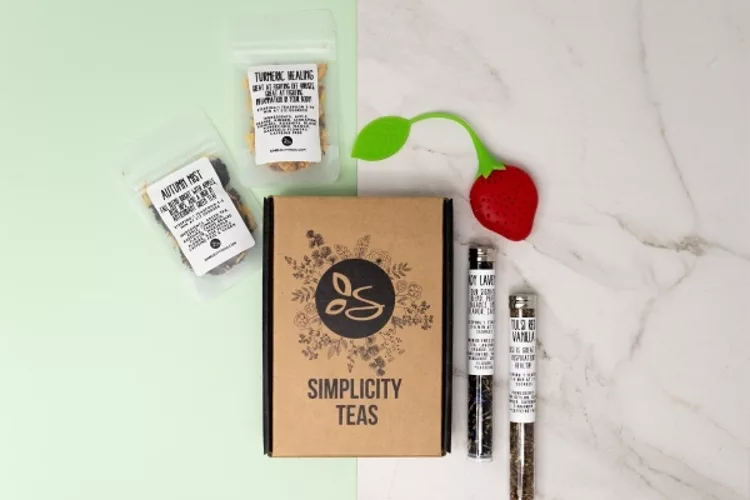 Here is what Carolyn S. says:
"So we let the person drinking the teas know if this tea is optimal for digestion, or for heart health, or for skin and hair."
Like Simplicity Teas says:
Life is too short to drink bad tea!
Simplicity Teas Stands Out:
Because their tea box is random (in a good way) and you will get different teas, but almost all different kinds of teas. Here is what else you can do if you have specific choices in their teas:
If you want "herbal only" teas, they have an option where you can select what specific teas you want, which is also called questionnaire there in the Simplicity Tea, which not only helps with what level of caffeine the teas should have but also the flavors you want to get.
Because Simplicity Teas, is delicious and healthy, every cup of tea you drink you would definitely be willing to come fore more.
What Other Kinds of Teas Simplicity Teas
Simplicity Teas offer a variety of tea blends using real tea leaves, herbs, and fruits that are delicious and natural. The teas come in a variety of flavors like green tea, white tea, and black tea, and include special blends that are caffeine free, like Calm, Cleanse, and Sleep.
This gives you the reason to drink or at least try Simplicity Teas Subscription Box, as every box comes with a unique blend of teas that you would really like to enjoy drinking.
Some Questions and Answers to know more about Simplicity Teas:
How much These Teas Weigh?
Because this tea is based on a monthly subscription option, this is also on the cratejoy, where I came to know that these teas usually weigh 45-50 ml to 60-70 ml. And depending on that these can make somewhere from 10 to 13 cups of the tea.
Does the tea come with an infuser?
The Mini and Deluxe pack of the Simplicity Tea comes with a tea infuser, for your convenience.
Even if you haven't tried Simplicity Tea before, you can go with their Mini Box which can make somewhere from 15 to 20 worth of cups, and this way you would know this tea better.
What is Loose Leaf Tea?
Loose leaf tea is just as the name implies, tea leaves that are not contained in a tea bag. These leaves are either steeped in a teapot or cup, or stuffed into a tea infuser. You can strain or filter out the leaves after steeping.
Is Loose Leaf Tea Better than Tea Bags?
Loose leaf tea is definitely better than tea bags because loose leaf tea is made from whole leaves, whereas tea bags can often contain only small pieces of tea leaves. This means that loose leaf tea is a much better quality of tea. Many people also prefer the taste of loose leaf tea because it's less processed than tea bags.
What has Most Flavor? Teabags or Loose Leaf Tea?
Loose leaf teas tend to retain more flavor than teabags and don't have the added flavorings that teabags can. Loose leaf tea also allows you to control the strength of your tea by brewing it at different amounts of time.