In the winter, if you might be suffering from cold and flu; what you would do is take all the medications possible. If your answer is a "yes", you might be missing something. That is definitely the "chicken soup". Remember that old remedy for sore throat which is done by adding salt to the warm water? However, adding some salt to the soup gives the similar results. Not only that; according to a study chicken soup helps with upper respiratory tract infections. So how is it made is you may already know, it is made by simmering the chicken in water along with some other ingredients. The classic way of the chicken soup contains the clear broth which has pieces of the chicken or some vegetables. In this article, you will learn about some of the best chicken soup brands, its different benefits, some alternatives and recipes.
Editors' Picks: Top Chicken Soup Brands Which Are Delicious and Healthy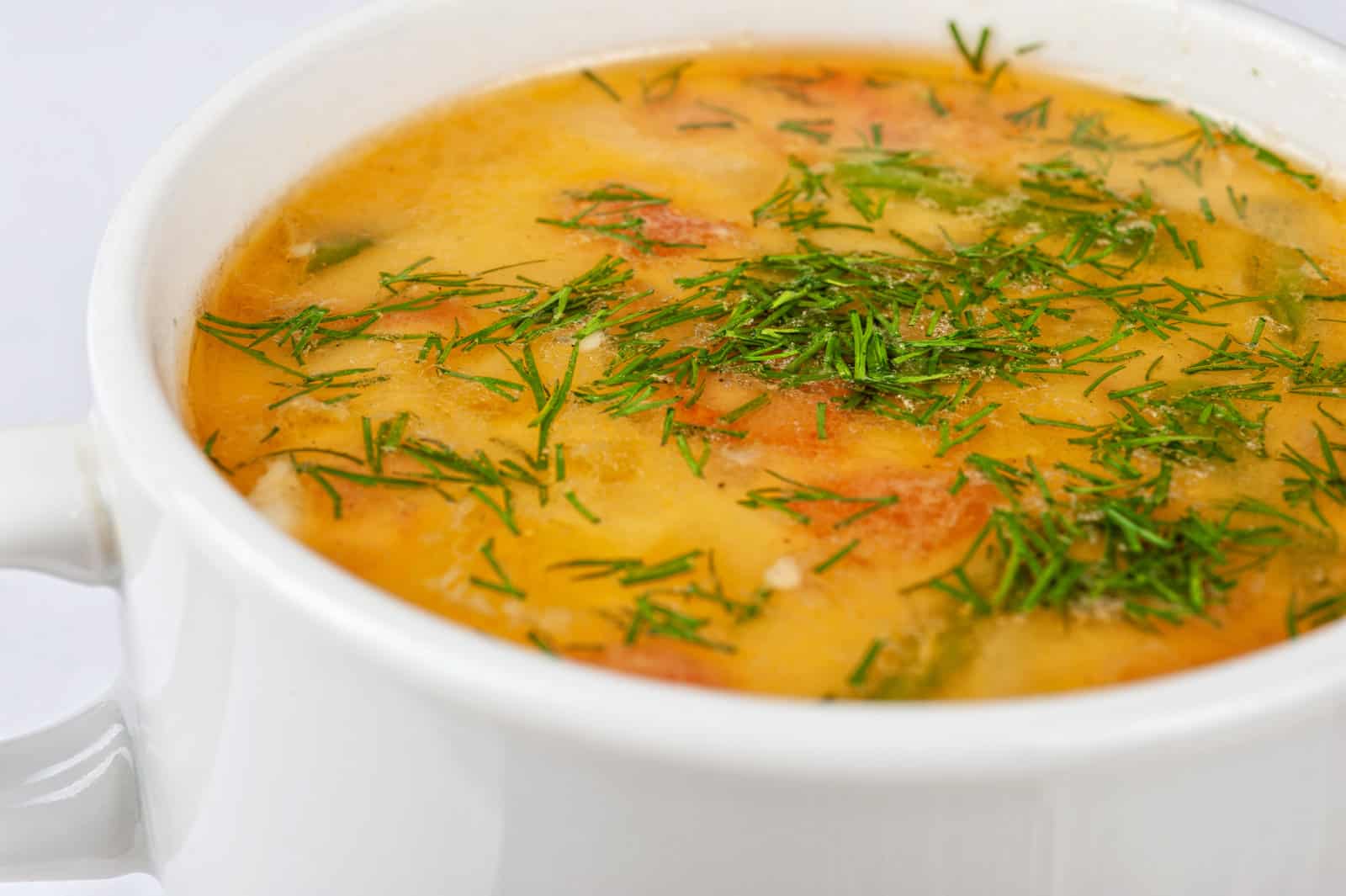 Chicken Soup Types:
While there isn't specific types of chicken soup, while its different types can be considered by its ingredients such as; chicken noodle soup, chicken corn soup, chicken chili soup and many others.
Top 6 Best Chicken Soup Brands:
Here is the list of some of the best chicken soup brands which are not only delicious but also healthy: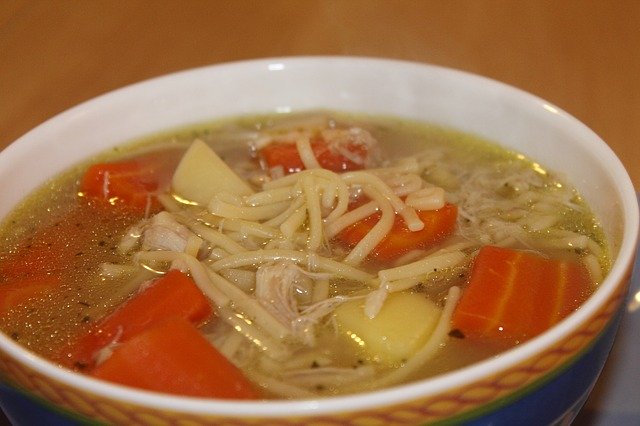 1. Campbell's Soup on the Go, Chicken & Mini Round Noodles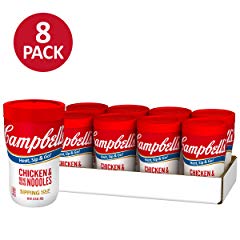 It is enriched with the round noodles along with the tender bites of the chicken.
These come in the heat and go cups which not only are easy to carry but also great for on the go.
Per container has 60 calories.
For this soup you do not even need the spoon and simply microwave it and use its sipping lid.
It takes a few minutes to become ready.
The easy peel lids of these cups make no mess and give you fresh flavor.
2. Nissin Cup O Noodles Hearty Chicken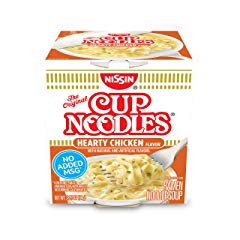 This noodle soup has a hearty chicken flavor which makes you go from hungry to happy within 3 minutes.
It is easy, portable and great on-the-go meal which can be served at anywhere.
It takes 3 simple steps for making such as; you have to boil the water in the separate container, then fold back the lid and then add the boiling water and then close the lid and wait for 3 minutes.
Later you can enjoy after stirring.
3. Mountain House Noodles & Chicken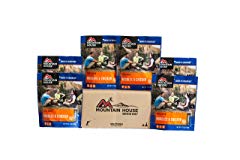 This soup is easy to prepare by adding water to the pouch and it gets ready within 10 minutes.
It is free from Egg, Soy, Wheat or the Milk. This soup comes in the pack of 6 and great for outdoors such as camping, fishing, backpacking, traveling and more uses.
It can work as emergency food yet it is delicious.
4. Swanson Chicken á la King Made with White Meat Chicken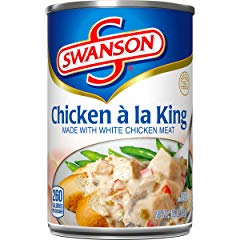 With this soup you will enjoy chunks of chicken and the vegetables with every bite you take.
This soup can be served by simply heating. It is great for the dinnertime and its lid is easy to open.
This soup has no added MSG, preservatives or the artificial flavors. It is also naturally low in fat.
5. Pacific Foods Organic Cream Of Chicken Condensed Soup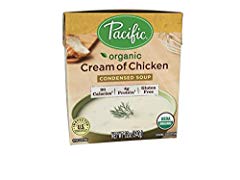 It is a blend of the roasted chicken, garlic and fraiche and it is savory.
It can be enjoyed with the different ways including the steamed vegetables and rice.
Other ways include; with sauces or the casseroles.
After opening it you should refrigerate it and use it within the 7 to 10 days.
It is free from gluten also.
6. Lipton Cup-A-Soup Cream of Chicken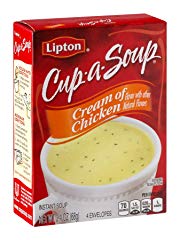 This cup-a-soup cream of chicken is the creamy chicken flavored soup, which is smooth and satisfying soup which you can enjoy, sip and savor.
It is warm and soothing soup which can be cooked within 2 minutes on the stovetop or the microwave.
Its each box contains 4 envelopes and per serving of this soup has only 60 calories.
Like chicken soup, there are different similar soups and related dishes to keep you warm and give the taste of your choice. With different ingredients some soups may taste differently. Here are some:
Chicken Soup vs Stew:
When looked closely, you will notice chicken soup contains more liquid. In other words the primary ingredient of a soup is the liquid, whereas, chicken stew has chunks of chicken meat and the liquid is only for covering its main ingredients and wouldn't be that much.
Another difference between chicken soup and stew is in the way the chicken meat is prepared. In chicken soup, the chicken meat is cut into small pieces, which are then added to a hearty soup with lots of spices. In chicken stew, on the other hand, the chicken is cut into large pieces and the chicken pieces are soaked in a broth for an extended period of time until they are tender.
The consistency of stew would be thicker than the soup. The chicken stew is served warm, whereas, the chicken soup can be hot or cold.
Chicken Soup vs Broth:
Both chicken soup and chicken broth are healthy and nutritious. In fact, the main difference between chicken soup and chicken broth is that the chicken soup is made with cooked chicken while the chicken broth is made with raw chicken. The chicken soup is always accompanied by other ingredients such as potatoes, onions, and carrots. The chicken broth can be served alone or with a bowl of rice.
Chicken broth is like warm liquid soup which can consists of some vegetables such as carrot pieces which float on it, it can incorporate noodles too. It can also be consumed as chicken soup. The ingredients for broth can be meat, bones or vegetables, while for chicken broth; it would be chicken bones for making it.
Chicken Soup Alternatives:
Not everyone enjoys chicken soup or anything relating to meats. The vegan alternatives can include tomato soup, miso soup, carrot soup and many others. Here are some:
Tomato Soup:
Unlike chicken soup, the tomato soup may contain fewer ingredients, some might be in your everyday use such as the main ingredient; "tomatoes". Not only it is rich in Vitamin C but also contains lycopene which is essential for health. It reduces cold and flu and drinking this soup is beneficial when you are sick because of the Vitamin C in it.
Vegetable Soup:
Like tomato soup, the vegetable soup contains more than one vegetable. It can be mixture of your favorite vegetables. Adding different vegetables to a soup means adding more vitamins to your diet. This soup also works better for your upper respiratory tract, throat and lungs. Though, the vegetable soup is also a great alternative soup to chicken or many other soup types.
Benefits:
The chicken soup is beneficial for cold and flu including fever. But it can be better understood by going in details such as what benefits would you get with this soup. Here are some benefits:
It supports Immune System:
Now, directly it doesn't help the immune system simply because of the chicken as the ingredient, but it has an added benefit of its few more ingredients such as; garlic, onions and different vegetables. The chicken soup is also great for reducing the inflammation in your body.
Healthy Digestion:
Similar to chicken soup such as broth contains the glucosamine which is released from the bones when these are cooked. Once broth is cooked, leave it to become cold. In slight cold broth there would be a layer of the gelatin along with glucosamine helps in protecting the digestive tract lining.
Fights Cold and Flu:
Whenever you get cold and flu, your doctor might give you some medicines but would also advise you to drink adequate amounts of fluids. But the question is; how many glasses of water would you be drinking all day long. It is good to stay hydrated but this warm chicken soup would really help in relieving the congestion and help you get better.
Some Chicken Soup Recipes with other Ingredients and Dishes:
Chicken soup is common and almost anyone might know how to cook it. But there are some recipes which include more than simple ingredients to make it taste even more and become nutritious. Here are some of these recipes:
Chicken Soup with Rice:
This recipe would not only give you nutritious benefits of the soup, but would also add the great taste with combination of rice to it. But here is something you need to make sure is; the rice should be pre-cooked and do not add it too early. In other words, the soup shouldn't cook with rice. The better way is to add the cooked rice to the soup and put it on the stove for a few minutes and then you can start to serve. Here is the recipe to make it easily.
Chicken Soup with Barley:
Chicken soup can also be cooked with barley. Here is a video of how to make it. This video is less than 1 minute, so it saves your time and helps you understand without thinking much about ingredients the soup has:
History
Chicken noodle soup has long been a staple of North American cuisine. But it was actually born in China during the Ming Dynasty around the fourteenth century. It is said that the dish was a gift from the Chinese emperor to his favorite general, Lin Piao. Over the centuries, chicken noodle soup evolved and became a staple of Chinese cuisine. While chicken noodle soup is now a part of Chinese cuisine, it originated in China as a gift from the emperor and was adopted into Chinese culture by Chinese immigrants.
What is Chicken Noodle Soup, and what is it made from?
Chicken noodle soup is made from chicken and noodles. Chicken is the main ingredient in the soup. The more chicken you use, the better the soup tastes. Chicken is added to make the dish tastier.
The soup is prepared in a broth by pouring water over chicken bones in a bowl.
The broth in n soup consists of chicken bones and water boiling together with other ingredients. The broth makes the soup look white when it is done. The bones are added so that the soup can be prepared quickly.
Campbell's vs Progresso Soups
Campbell's makes a range of soups that aren't as good as Progresso. Progresso soups are slightly better than Campbell's. However, people have different opinions for how one is better than another. Here is side by side difference in both Campbell's and Progresso Soups:
Campbell's (per 130 grams)
Good if you like salty soups.
130 calories per serving.
480 mg sodium.
6g protein.
Progresso (per 244 grams)
Thick and flavorful soup, less salty.
70 calories per serving.
690 mg sodium.
6g protein.
Now if you take a look at above difference to find out how both soups are different. The above nutrition chart is comparison of Campbell's 130 grams serving vs Progresso's 244 grams serving.
Common ingredients used in Chicken Noodle soup
The ingredients for chicken noodle soup are carrots, onions, celery, broth, chicken stock, salt, paprika and other spices, and noodles.
The noodles are usually cooked with the soup. The noodles are cooked by boiling them in the soup.
How does chicken noodle soup taste compared to other types of soup?
Chicken noodle soup tastes like chicken soup without the noodles. The chicken soup is clearer and the chicken flavor is definitely stronger in aroma. The noodles are added to make the soup closer to the original recipe.
What are the reasons people say chicken noodle soup has no flavor?
Some people say they like their chicken noodle soup without noodles because it is more convenient. They can eat the soup and not have to use all those time-consuming noodles. Others say that the taste of the soup is different when they order it without noodles.
What are the ways to prepare chicken noodle soup?
Most chicken noodle soup is made with a broth base with carrots, onions, celery, salt and pepper.
Some Common Questions and Answers about Chicken Soup:
So you learned about some chicken soup brands, its alternatives, substitutes and recipes. While you might still have some questions, here are some of the questions which are asked by people with answers:
What is difference between a can of soup and box of soup?
The thing about a can of soup is that it's convenient. You can grab it from the shelf and take it home and make it quickly. But it doesn't last as long as a box of soup that you can stick in your cupboard and pull out and make whenever you want, whenever you have time.
When it comes to soup, people always grab the can of soup because it's more convenient, but the truth is that it's more expensive per serving and you're getting the same amount of soup. The only difference is that the box of soup is not as convenient.
Can chicken soup be left out overnight go bad or is it safe to consume?
After reading discussion on Discusscooking.com, it is easy to say that, you should not even think about it. It even shouldn't be given to a pet. Simply throw it away as the left out soup can be harmful to consume be careful next time so you do not forget about it.
How long does it take to cook the chicken soup at home?
It takes somewhere from 30 minutes to an hour depending on heat levels on your stovetop. However, it is a process of putting the soup on high heat to lowering it at different times.
Does chicken soup help with fever?
When you have cold or fever, you need to stay hydrated throughout the day. So, drinking chicken broth or soup and enough water intakes helps your body to remain hydrated.
Buy them at eBay, Etsy, Walmart (subject to availability)
Progresso, Rich & Hearty Soup, Chicken and Homestyle Noodles, 19oz Can (Pack of 6) - Walmart, Etsy, eBay
Campbell's Chunky Microwavable Classic Chicken Noodle Soup, 15.25 Ounce Bowl - Walmart, Etsy, Ebay
Campbell's Condensed Chicken Noodle Soup, 10.75 Ounce Can with Pop-Top Lid (Pack of 4) - Walmart, Etsy, Ebay
Progresso Soup, Traditional, Chicken Noodle Soup, 19 Ounce - Walmart, Etsy, Ebay
Progresso Soup Traditional, Chicken and Orzo, 18.5 oz - Walmart, Etsy, eBay
Progresso Soup Reduced Sodium, Roasted Chicken Noodle, 18.5 oz - Walmart, Etsy, Ebay
Conclusion:
In this article you learned some of the best chicken soup brands and its different alternatives, benefits and recipes. If you have any questions, please do ask.