As the title of this article suggests, this tea is really a different kind of tea. When it is packed it looks like water in the bottle but when the cap is twisted, the ingredients inside the caps are released to water and so this gives you the fresh juice or iced tea without preservatives. Caffeine content of this iced tea varies depending on flavor but is 20 mg per bottle on average.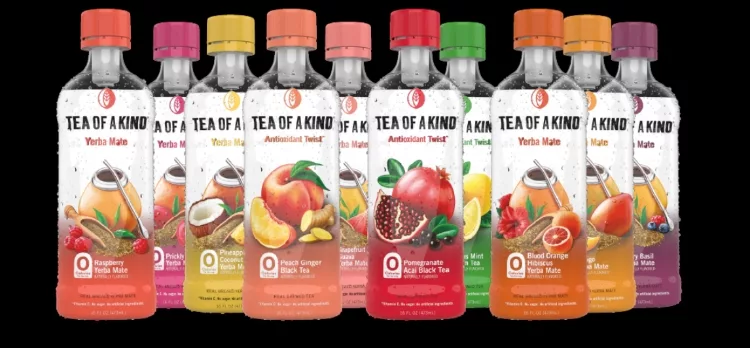 Tea of a Kind Caffeine
So lets take a look the caffeine content in different Tea of a Kind iced teas:
Peach Ginger Black Tea
With 24 mg of caffeine this bottled tea offers the refreshing flavor by using only a few ingredients. Other than that, this natural Peach Ginger Black Tea will quench your thirst with the right amount of sweet summer peach and spicy ginger notes and excite your taste buds. Lightly sweetened and freshly brewed, this black tea is the best regular, safe routine to get behind from the moment you twist the Vessl™ bottle.
Citrus Mint Green Tea
With a twist of lemon and a taste of mint, this green tea is well blended to produce a soothing blend of rich, fresh brewed tea with antioxidants. Lightly sweetened and free of added preservatives, with every taste, this green tea is soothing. The caffeine content in this tea is 37 mg per bottle .
Pomegranate Acai Black Tea
TOAK white tea is known for maintaining a harmony of crisp, sour, sweet fruit and the delicate earthy features of white tea. This Tea of a Kind Pomegranate Acai, mildly sweetened and well balanced, is a great alternative to sodas and energy drinks rich in calories and sugar. The caffeine in this iced tea is 22 mg per bottle .
Raspberry Yerba Mate
This Yerba Mate Tea is all in one drink with the power of coffee, the nutritional benefits of tea, and the euphoria of chocolate. In the Vessl closure, antioxidants and vitamin C are retained and covered until the point of ingestion from UV radiation, oxidation and other degrading influences. The caffeine content in this tea is 18 mg per bottle .
Some other flavors of Tea Of A Kind iced tea:
Flavors include: Peach Ginger Black Tea, Pineapple Coconut Yerba Mate, Citrus Mint Green Tea, Raspberry Yerba Mate, Pomegranate Acai Black Tea, Grapefruit Guava Yerba Mate, Blood Orange Yerba Mate, Berry Basil Yerba Mate, Prickly Pear Yerba Mate, Mango Yerba Mate
Key Takeaways from this article:
This new concept of iced tea keeps the tea stored in its caps so you get fresh tea whenever you twist its cap.
With different flavors, you can enjoy the ones you like.