Pomegranate juice is great for health, we all know that. But extracting the juice everyday isn't that easy. Especially when you are out of the pomegranate season; there are no pomegranates once the season is over. This is where best pomegranate juice brands take the place. And there is more.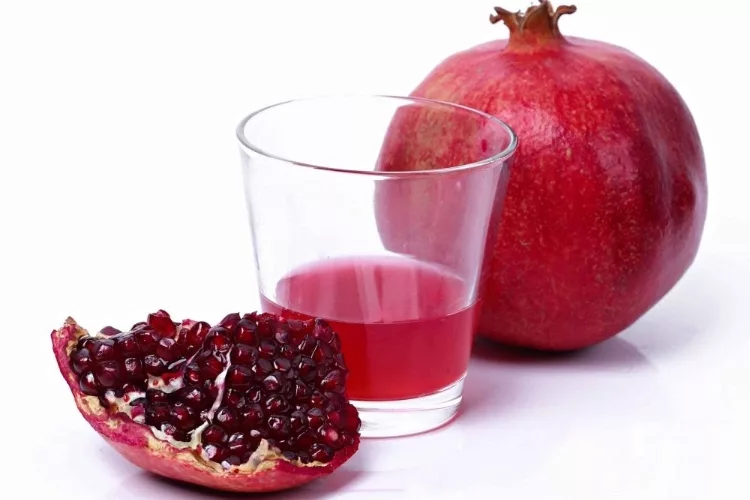 Not all brands of the pomegranate juice are 100% real. However, you can find a few when you take a look at different brands. But why would you? I have found some of the best ones which you may not only find deliciously tart or sweet, but healthy at the same time.
This article explains:
Best Pomegranate Juices.
How to Determine the best ones.
A few questions and answers about the pomegranate juice.
So, let's get started:
Best Pomegranate Juice Brands:
When talking about pomegranate juice, the first thing that comes to mind is; taste. Not everyone is willing to drink the juice for health. When looking for the one, you may come across POM, V8, Lakewood and more. Here is the list with the details you may need:
1. POM
This pomegranate juice which POM makes is 100% real. And here is why: They grow their own non-GMO pomegranates in such a way that they do not have to add sugars or preservatives. So, they bring the whole pomegranate juice. That is what makes them different.
Other than that: The antioxidant strength of the handpicked, California-grown pomegranates is unleashed by each pure, delicious sip of POM Wonderful.
What's more: From your breakfast to your cocktails. Add a few arils or a healthy splash of POM to these fun, simple recipes for enjoyable, flashy flavor.
Here is what in this juice:
Pomegranate juice from concentrate, making it 100% pure.
No preservatives, colorants or even added sugars.
The look of the bottle is so great that it stands out in your fridge or pantry.
Enriched with antioxidants.
What isn't good about this juice?
When you are looking only for a low-calorie juice, it isn't the one. But considering all other benefits, you can still drink this in moderation.
2. Lakewood
Lakewood juice is 100% Pure Pomegranate juice without use of concentrates. Instead it is pasteurized with the fresh pomegranates.
Why to Drink Lakewood Pomegranate Juice?
One of the reasons this juice is good because the sugar is natural which comes from fruits. These juices do not contain the preservatives. The glass bottle means no BPA like in most plastic bottles. No Gluten and No GMO and this pomegranate juice is 100% vegan.
Lakewood Juice Story:
With its founder, Fred Fuhrman, running a small fresh fruit business in Miami, the Lakewood story begins.
Lakewood's trademark Fresh Pressed® line of non-concentrate juices was pioneered by Fred's son, Thomas.
Fred's grandson, Scott FuhRman, subsequently took the helm from Thomas and is currently acting as Chairman & CEO.
Here is why this juice is good?
The juice is fresh-pressed.
No-concentes, non-GMO, no Gluten and no preservatives.
This juice is Certified Organic.
Glass Bottled, which means you do not have to worry about BPA materials.
Is there anything bad about this juice?
Not so far. However, to keep the juice fresh, you should store immediately in the fridge.
3. V8 Pomegranate Blueberry
For a light, sweet taste, V8 Fruit & Vegetable Mixes 100% juice provides you with the nutrition of vegetables mixed with the correct balance of fruit juice, plus 1 full serving of berries and 1 full serving of veggies.
Why V8?
V8 has always been rooted in goodness and they have always managed to help you get your vegetables and fruit by making better and more tasty forms. Every year, V8 uses millions of ripe tomatoes for our vegetable juices, so they work from California to New York with family farmers around the country to help us produce some of the most delicious veggies!
What is good in this juice?
Like in many other great pomegranate juices, this is also free from sugars or sweeteners. Being non-GMO and Gluten Free are also one of the good things in V8 juice.
Aside from that, this juice is also free from artificial flavors and preservatives.
What isn't good in this?
Like POM, this one is also not low in calories.
4. Optima Pomegranate Juice 500ml
The pomegranate is a fruit of legend, with a long and popular tradition of being used by people. The pomegranate, prized over the years, is a fruit that has now been adopted as a nutritional supplement in the modern century.
Prior to use, shake well. Take one serving of up to 20 ml twice daily. It may be served or filtered to taste straight from the bottle.
Keep it out of direct sunshine in a dark, dry spot. After opening, refrigerate and use it within one month.
How to Determine the Good Pomegranate Juice vs the Bad?
Well, there isn't good or bad in pomegranate juice but your preferences. There can be hundreds of juices available with high sugar, calories and can still taste delicious. However, tasting good doesn't mean the juice would be filled with sweeteners or colors.
This is more about finding the right ones. As you can take a look at the beginning of this article. Those are the most healthy ones. Why these are healthy, is because there is no artificial sugars in these. Neither the colors or preservatives etc.
But here are some of the things to consider when selecting the right pomegranate juice which can be delicious and healthy at the same time:
Calories:
This is the most talked topic, calories. Almost everyone who is on a specific diet, wants a low calorie drink. While pomegranate juice can be sweet or tart there are calories itself in the real fruit. For example, 100 grams of real pomegranate fruit has 83 calories naturally. Drinking juice can result in more calories because the juice may take away the remaining part of the fruit. Not to mention, pomegranate has various nutritional benefits, if you can compromise it with a few calories, that can be ok.
However, you can always find the low calorie pomegranate juice if you are strict to a diet.
Pure Pomegranate or Mixed with Other Fruits:
If you want to take full flavor of a pomegranate juice, go for POM which is at #1 in this article, there are a few others. However, if you want to drink mixed fruit juice you can go for #3 in this article which is V8 (Pomegranate Blueberry). Again it is also on your preferences what you consider, both of these juices are nutritious and popular.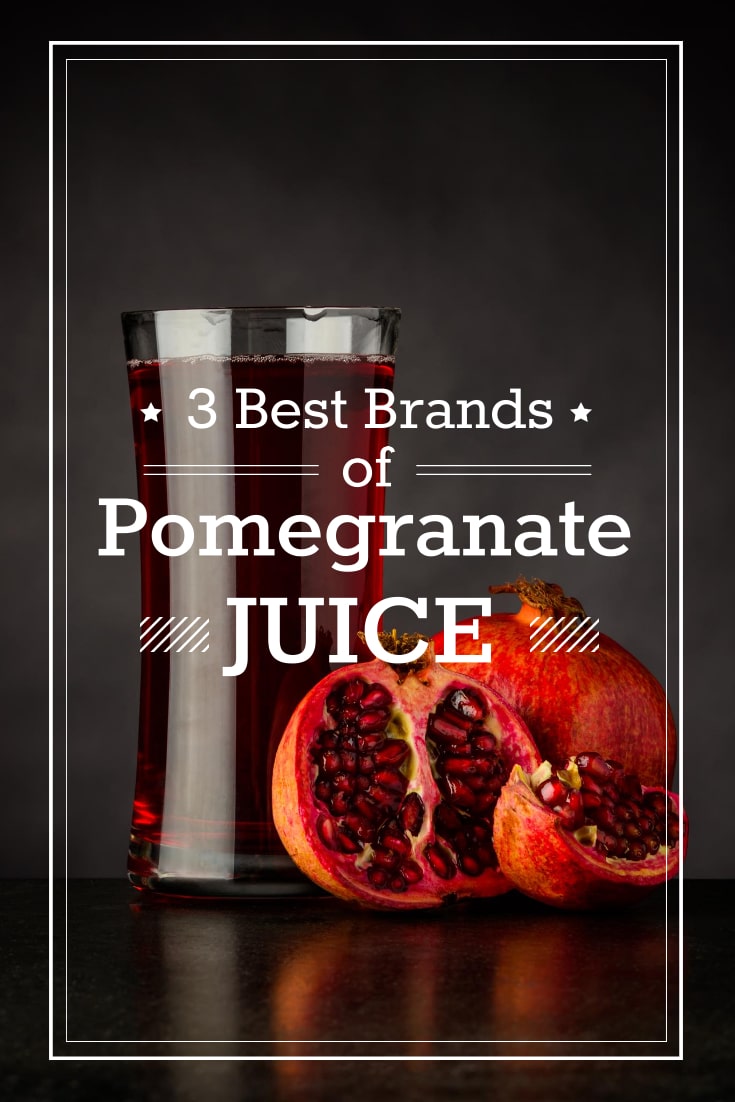 A few Questions and Answers about Pomegranate Juice:
I tried to explain as much about pomegranate juice, however, you may still have questions. So here are a few common questions asked by many pomegranate juice lovers, with answers:
What does pomegranate juice taste like?
Pomegranate Juice's taste can be considered as sour, sweet musty and earthy (1). And there is a reason, this fruit resembles most of the berry like fruits (in taste) like cranberry or blackberries.
What is the difference between cranberries and pomegranate juice?
Pomegranate contains more vitamin C immune boosters than cranberries. It is a strong source of vitamin B9, which makes red blood cells develop in the body. Whereas, cranberries contain more fiber than pomegranates and an antioxidant in the cranberries protects against the free radicals damage (2).
How to make pomegranate juice taste better?
Pomegranate juice is delicious, but there are ways to taste it much better. There are different fruits you can add to the juice such as; berries, apples or even mangoes. Or simply add any fruits which you like.
How good is pomegranate juice for you?
This juice contains 3 times more antioxidants than red wine or green tea (3). There are many health benefits of drinking as low as two ounces of this juice daily to keep the blood pressure lower, improving cholesterol levels and many other benefits.
How much sugar in pomegranate juice?
There is 13 grams sugar in the 100 grams of the juice.