Sometimes in life you may want to change your diet but then all the sudden you may start worrying about the foods you may have to give up being on that diet, such as on Paleo and Keto. Well that is not always the case; you can still enjoy delicious foods if you are on the Keto or Paleo diet. For example, you may have to give up foods with gluten. However, there is almond flour which takes place and you can enjoy all the flavorful and healthy recipes including; baked foods such as cakes, cookies and many more. In this article, you will know about some of the best brands of almond flour which are not only best tasting but are actually healthy in many ways.
Editors' Picks for Top Brands of Almond Flour for a Healthy Substitute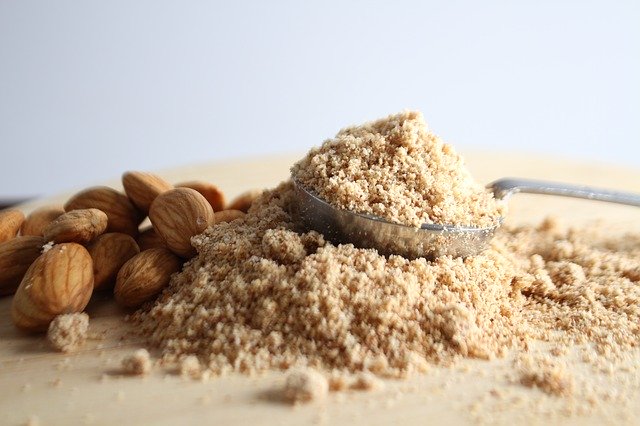 Are There Some Specific Types of Almond Flour?
Like its name, the flour is made from almonds. However, there are two types, blanched and unblanched. The blanched almond flour is when the almond peels are removed and almonds are finely ground. Whereas, the unblanched flour has whole almonds along with skins which may also make the texture of flour different.
Top 12 Best Brands of Almond Flour:
Here is list of some of the best brands of almond flour for healthy and delicious baking recipes:
1. Anthony's Almond Flour Blanched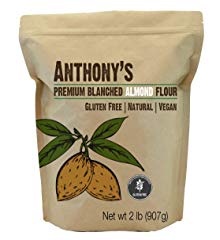 This flour is made from 100 percent California Natural Almonds.
It is great for different Almond Flour Recipes and it tastes great.
This flour is Verified Gluten Free and it is Batch Verified.
Because it is free from the artificial ingredients and preservatives, it is great for health.
The 28 grams of this blanched almond flour contains more than 6 grams of plant based high quality protein.
It is low in carbohydrates and only around 5 grams of carbohydrates it has per 28 grams.
Its some of the popular recipes include; Almond Flour Bread, Almond Flour Chocolate Chip Cookie and the Almond Flour Peanut Butter Cookies also.
2. Blue Diamond Almonds Almond Flour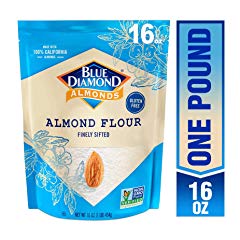 This flour is free of gluten and it is great for different recipes and baking also.
It is also suitable for the Keto and Paleo lifestyles.
The almonds which are used in the preparation of this flour are of high quality.
Not only it is easy to use for different recipes but it also adds nutritional benefits of almonds.
3. Wellbee's Super Fine Blanched Almond Flour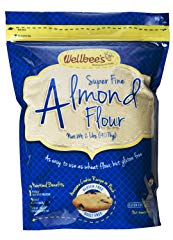 It is made of the 100 percent pure skinless almonds and doesn't contain preservatives or the additives.
The shelf life of this flour depends on how you keep and store it.
Keeping in the fridge make it usable for 6 months, whereas, if you place in the freezer then the shelf life maximizes for up to 12 months.
It is free of gluten and it is nutritious also.
4. Super-Fine Almond Flour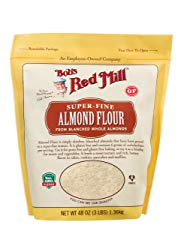 It comes in the 3 lbs bag, and the flour is Super-Fine Ground Almond Flour.
Not only it is the great source of Vitamin E along with Magnesium but also is Vegetarian and Vegan-Friendly Flour.
And it also fits in many healthy lifestyles such as Paleo.
The bag of this flour is self-standing and convenient to use.
It contains only 4 grams of the net carbohydrates and 1 gram of the fiber per serving.
5. Mandelin Natural Unblanched Almond Flour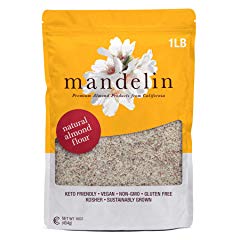 It is fresh and natural flour which only contains almonds as the ingredients.
This almond flour is ground the traditional way with the marble mill stones until these are ground to powdered form.
It also captures the actual goodness of the fiber from the almonds.
This flour is not only naturally healthy for your heart but also is low in cholesterol.
It is also gluten-free and non-GMO.
6. Organic Almond Flour, 2 Pounds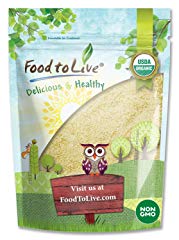 Like many other almond flours, it is also free of gluten and cholesterol.
It is great for baking different vegan cakes and cupcakes also.
It is a good substitute to different flour types and also good to be used for breadcrumbs.
Not only it is a good source of different vitamins and minerals but also is Non-GMO.
It is not only great for people who are sensitive to gluten it also has different uses and benefits.
This flour is great for different vegan smoothies and recipes.
7. 4LB Almond Flour Blanched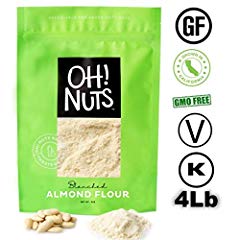 This almond flour is the great alternative to the wheat flours, and it is not only rich in the nutrients but also low in carbs.
By using it you can also make gluten free pasta or pancakes.
Even if you want to bake cakes, breads, macrons, scones or cookies, it is the great choice for making many other things too.
This flour is also great for people with allergies, diabetes and those who are sensitive to the gluten.
And this flour also fits easily for Keto lifestyle.
8. Organic Almond Flour Powdered Low Glycemic
This flour is made from organic almonds which are peeled and are naturally sweet.
With low glycemic index almond flour becomes great for cooking, baking and many other uses, it also keeps the sugar levels low for the diets.
There are different things you can use it including; pancakes, brownies cookies and many other things.
9. Yupik Organic Flour, Blanched Almond Meal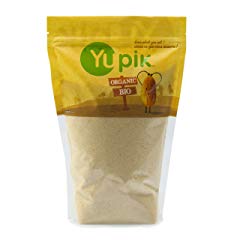 It is Non-GMO almond meal which is also sulfite-free, Vegan-Friendly, Vegetarian and all-natural also.
This flour provides you with the good source of protein and fiber and is great for baking purposes in which it not only gives the health benefits but also adds a nutty flavor to your recipes.
It is the fine almond meal which is made from the ground and skinless almonds which are organic.
Whenever you add this to the baked goods, the texture is light and it has many uses for different recipes.
10. UNBlanched Natural Almond Flour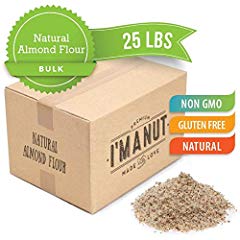 It is not only the delicious almond flour but also the substitute to different flours which are processed.
This flour comes in the 25 pounds bag which is high quality and provides many health benefits.
Some healthy nutrients it contains include; vitamins and minerals, protein, fiber, folate, and calcium.
It is great for baking the different kinds of desserts and many other things.
11. NOOSH KETO 1 to 1 All Purpose Almond Flour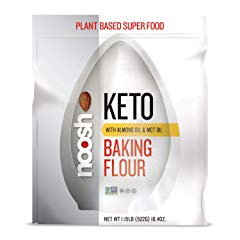 In this almond flour, there is only 1 net carb and 18 grams of the fat per serving and it is suitable for different baking purposes.
This Keto Baking Flour not only contains MCT oil but also the almond oil which is enriched with high linoleic acid.
It is also gluten free, Non-GMO, and 100 percent vegan flour. It is great for some of the nutritious pancakes, cupcakes, Pie Crusts and more.
This flour doesn't contain the palm oil, peanut, dairy or preservatives.
12. Worldwide Botanicals Roasted Almond Meal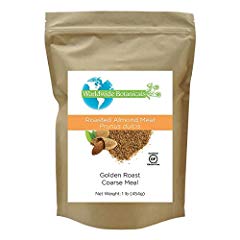 This almond meal is made from the unblanched California almonds.
The almonds are roasted first to the golden perfection and then these almonds are ground to the coarse meal, making the almond flavor recipes delicious.
This meal is 100 percent grain free and is great in making the cakes, cookies, breads, pies and many other recipes flavorful.
What are Some Other Similar Flours to Almond Flour?
Almond flour is enriched with a number of nutrients. However, there are some similar flours which you might want to know about:
Almond Flour vs Almond Meal:
Both are nutritious while, almond flour is made from blanched and finely ground almonds, whereas, almond meal is whole almonds along with skins. So, another name of almond meal is the ground almonds. On the other hand you can also crush the whole almonds in the food processor. However, if it is processed more than that, it may become the almond butter, as it has natural oils and fats. Another difference is the consistency, as the result of almond flours would be moist baked goods whereas, almond meal texture would be rough and dense and the color becomes dark as compared to almond flour.
Almond Flour vs Coconut Flour:
Now this one is quite challenging to compare as both of these flours do not contain gluten and grain. And guess what! People on the Paleo diet would love these. Other similarities are; both are less processed and full of nutrients. However, even almond flour is so good many ways, some people with nut allergies would look for nut-free foods. In this case, coconut flour would be good for them. However, both have different uses. Almond flour is great for several baked goods including; delicious cakes, cookies, breads, macarons and more. The coconut flour is good for many foods such as; cookies, pizza crusts and it has many other uses.
Some Benefits of this Flour:
There isn't only one reason to love almond flour; there are many. The benefits it adds to your health are numerous. When you think about the nutritional benefits of almond flour, think of it as almonds, such as how great they are for your health as these are filled with the vitamins and minerals the body needs. Here are some benefits of almond flour:
An ounce or 28 grams of almond flour contains:
6.1 grams of protein:
The daily requirement of protein depends on your body weight. The RDA for the protein is 0.8 grams of protein per kilogram of your body weight. In this case if your body weight is 60 kilograms, you need 48 grams of protein regularly. This requirement of the protein intake is essential to keep you in a good health. Almond flour fulfills 6.1 grams protein per ounce of the flour, which is almost near to the protein content of an egg (6 grams). Make sure you do not consume more too much protein as compared to the required.
Vitamin E: 35% of RDI
We have heard about the antioxidants almost everywhere. Well, Vitamin E is not only a vitamin but also the antioxidant which helps body in many ways. In an ounce of the almond flour it is 35% of the RDI whereas 14 years or adults need 15 grams of the Vitamin E.
3 Grams of Dietary Fiber:
Even if it is 3 grams in an ounce of this flour; dietary fiber is essential for reducing many diseases. So, it is another reason almond flour is good for health. According to UCSFHealth, the required intake of dietary fiber should be from 25 to 30 grams a day from the food.
Now you may be thinking how to consume it every day. Well, there are several cereals which can fulfill this requirement for you. Other ways are to consume different fruits and vegetables. However, almond flour already gives you some of it.
Not only that, there are some other nutrients of the almond flour including; manganese, copper and also more.
Recipes:
If you are new to the almond flour, or even if it is part of your diet and you want to learn about different recipes, here are some of these:
Almond Flour Bread (Low Carb and Healthy)
This simple recipe only takes about 5 ingredients to make it, including; 2 cups of the blanched almond flour, 1/4th cup of psyllium husk powder, ½ tsp of the sea salt, 1/4th cup of the coconut oil, 1 tbsp of the Gluten-free baking powder, 4 beaten large eggs and ½ cup of the warm water. Here is the full recipe of this delicious almond flour bread.
Delicious Almond Flour Muffins (Low Carb):
Here is how Jennifer makes almond flour muffins by using some ingredients like; Almond Flour, Salt, Eggs, Sliced Almonds, Baking Soda, Vanilla Extract and few more ingredients. Here is the video:
Some Frequently Asked Questions about the Almond Flour:
There are some common questions asked by people about the almond flour. These may help you understand more about the flour:
Does the almond flour go bad?
It depends on how you store the flour. If you simply put in the pantry, it may be in usable for several months. However, you may want to use it for long. And for this reason it is better to store in the fridge to give it some more months to keep it safe.
Can people with nut-allergy consume almond flour?
If you are allergic to the almonds, you may start to develop skin rash. In this case you should avoid using it, and find for the substitutes such as nut-free flours.
Buy on eBay, Etsy, Walmart (limited quantity)
Anthony's Blanched Gluten Free Almond Flour, 4 lb, Gluten Free & Non GMO, Keto Friendly - Walmart, Etsy, eBay
Mandelin Grower Direct Pure Natural Almond Flour with Skin (5 lb), Super Fine, Non-GMO, - Walmart, Etsy, eBay
Blue Diamond Almonds, Almond Flour, Gluten Free, Blanched, Finely Sifted, 1 Lb - Walmart, Etsy, eBay
Nature's Eats Blanched Almond Flour, 64 Ounce - Walmart, Etsy, Ebay
Wellbee's Blanched Almond Flour / Powder 2 LB. - Walmart, Etsy, Ebay
Honeyville Blanched Almond Flour Super Fine Grind Gluten Free Cholesterol Free 3lbs - Walmart, Etsy, eBay
Wholesome Yum Premium Super Fine Blanched Almond Flour (16 oz / 1 lb) - Gluten Free, Non - Walmart, Etsy, Ebay
King Arthur, Almond Flour, Certified Gluten-Free, Non-GMO Project Verified, Certified - Walmart, Etsy, Ebay
Terrasoul Superfoods Organic Almond Flour, 1 Lb - Fine Texture | Grain-Free | Gluten-Free - Walmart, Etsy, eBay
Pillsbury BEST Almond Flour, Almond, 14 Ounce, Gluten Free - Walmart, Etsy, Ebay
Oh! Nuts Blanched Almond Flour | Gluten-Free, Extra Fine Baking Delights | 3lb - Walmart, Etsy, eBay
Almond Flour (1 Gallon) No Additives & Gluten-Free, Blanched, Ground, Vegan, Paleo & Keto - Walmart, Etsy, Ebay
BARNEY Skin-Free Almond Flour, Paleo, KETO, Non-GMO, Peanut-Free, 13 Ounce Resealable Bag - Walmart, Etsy, eBay
Blanched Almond Flour, 1 Pound — Non-GMO Verified, Finely Milled, Raw, Vegan, Keto, - Walmart, Etsy, eBay
Anthony's Almond Meal Flour, Natural Unblanched, 5 lb, Batch Tested Gluten Free, Keto - Walmart, Etsy, Ebay
Conclusion:
So in this article, you learned about some of the best brands of almond flour, its benefits, substitutes and recipes. If you have any questions, please do ask.