Whether it is stir fry dish you are preparing or marinate, the oyster sauce is what brings taste to it on the next level. So, what oyster sauce really is? It is made through cooking the oysters into water for as long as till it turns to thick and caramelized liquid. These aren't only the oysters which are cooked, but there are a few ingredients too, such as salt, some sugar and also the soy sauce etc. Another thing you should make sure is to cook oyster sauce on the low simmering. Now you may think it is easy to prepare your own sauce. However, you might be new to this, and thus you may not be sure about the right ingredients for the required flavor. There are some of the best brands of oyster sauce to add the delicious flavor to stir-fry dishes, vegetables and many other recipes.
Editors' Picks for Top Brands of Oyster Sauce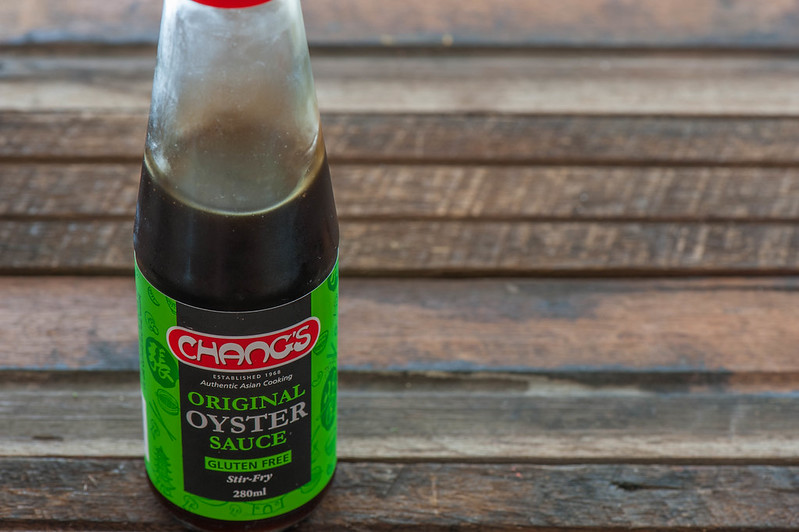 How it is Used?
There are many uses of this sauce such as adding savory flavor to vegetables and different meats. It is also good for stir fry noodles.
Top 5 Best Brands of Oyster Sauce:
Here is the list of some of the best brands of oyster sauce to enjoy stir-fry dishes, seafood and different vegetables:
1. Thai Oyster Sauce Maekrua Brand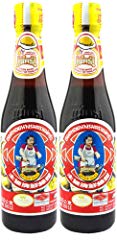 This sauce is commonly used for different Asian stir fry dishes and is also used for almost all types of seasonings.
The common ingredients of this sauce are: oyster extract, the wheat flour, corn starch, salt and soy bean etc.
It comes in the pack of 2 bottles which are 11 ounces each bottle, making it 22 ounces total.
2. Wok Mei Gluten Free Oyster Sauce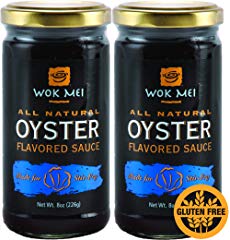 Now this one is free of gluten which makes it great for people who are intolerant to gluten.
Not only that, it is also ideal sauce for marinades and stir fry dishes.
By adding this sauce with vegetables and different meats you can enhance the taste of your favorite recipes.
Aside from that, this sauce is free from the refined sugars, MSG or starches.
It is the pack of 2 jars which are 8 oz each jar.
It is common for Thai, Vietnamese and Chinese dishes.
The ingredients it contains are 100 percent natural. It has a rich and delicious taste.
3. Wan Ja Shan Vegetarian Mushroom Oyster Sauce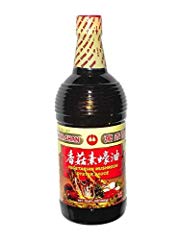 This sauce enhances the flavor of different vegetables such as tofu and many others.
This vegan sauce is great for stir fries, grilling and dipping purposes.
The ingredients it has are: water, wheat, salt, sugar, soybeans, starch, and the mushroom flavor etc.
The good thing about this sauce is the preservative it contains is less than 0.1 percent.
It can also be drizzled over the rice to enjoy it even better.
4. Kikkoman Oyster Flavored Sauce Red Label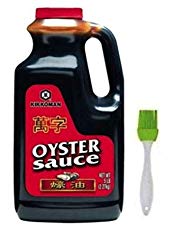 It is a 5 pounds sauce and it also includes a basting brush made of silicone, which can help you to use it mess free.
This oyster flavored sauce is extracted from the fresh oysters and contains the thick and rich taste.
The savory flavor of this sauce is balanced with the touch of sweetness and gives your dishes the delicious taste.
5. Dragonfly Premium Oyster Sauce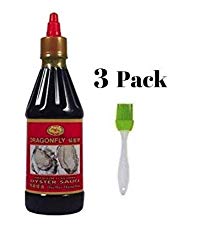 This Premium Oyster Sauce comes in pack of 3 which is 19 oz each, in which there is Silicone Basting Brush is also included.
This sauce has the savory flavor making it great for different dishes including vegetables and meats.
It doesn't contain MSG and the bottle made of the plastic and is easy to squeeze.
Similar Sauces:
Now you know about the oyster sauce. However, there are many
sauces which are similar to that. And you may also want to know if you can
substitute other sauces with the oyster sauce. Here are some of these:
Oyster Sauce vs Hoisin Sauce
Both sauces have the distinctive flavor, as the ingredients in these are quite different. The common ingredients of the oyster sauce are; oyster extract, salt, sugar, starch and water etc, whereas the Hoisin Sauce contains; soybeans, chili, the sesame seeds, vinegar, different spices, garlic, water and starch etc. Another difference is; Oyster sauce is usually used for flavoring, whereas, Hoisin sauce is best for dipping and can be used with chicken, vegetables, duck pancakes, beef and related dishes.
The oyster sauce flavor can be salty, umami and sweet flavor
whereas, hoisin sauce has spicy, salty and sweet flavor. About the texture,
oyster sauce is thick brown while hoisin sauce has the reddish brown color.
However, if you want to use hoisin sauce as the substitute to oyster sauce, you
can do that by adding some splashes of the fish sauce to it.
Oyster Sauce vs Fish Sauce
Both Oyster and Fish sauces are commonly used for adding flavors to the Asian and Chinese dishes. However, the fish sauce is usually for different curries and sauces, whereas the oyster sauce is great for stir fry dishes. The ingredients for both of these are different such as the fish sauce is made from different seafood but usually from the fermented anchovies. The oyster sauce is made from cooking oysters in water, while the vegetarian version of this sauce is made from the mushrooms. The consistency of the fish sauce is light than the oyster sauce which has the thicker texture.
Some Benefits of Oyster Sauce:
So, it makes the foods delicious right, and you may like it for many reasons. However, not only it is cholesterol free but also it only has 9 calories in a tablespoon.It doesn't have this much vitamins and minerals, fiber (0.1 grams) and protein (0.24 grams), the sodium however is about 492 milligram in a single tablespoon of this sauce.
Some other nutrients of this sauce are; carbohydrates 2 grams, potassium is 9.7 mg, the calcium is 5.8 mg, phosphorus is 4mg and magnesium is 0.7 mg etc.
How to make Oyster Sauce at Home?
While most oyster sauce brands have the right amount of
ingredients to add flavor to your dishes, but if you still prefer to make the
oyster sauce at home; here is one of the recipes:
For this homemade oyster sauce you need only a few
ingredients, not too many things. These are 8 ounces of oysters, a teaspoon of
salt, while soy sauce depending on the need.
First you need to drain the oysters and also reserve the liquid, then later add the oysters in the food processor till these are chopped finely and then later take the reserved liquid and add it and then bring to boiling. It should be on low heat and then keep these simmering for up to 12 minutes. Here is described step by step.
Frequently Asked Questions about Oyster Sauce:
Oyster sauce is delicious with many dishes, while you may have
many questions about it. Here are some of the common questions with the answers
to help you as much as possible:
Can oyster sauce go bad after specific time?
Once you open it for the first time, make sure you keep it refrigerated. If the sauce is refrigerated continuously, it can be in good use for up to 2 years. Not only that, but once the expiry date is reached, it still remains safe to use. The "Best Used By" date of oyster sauce is an estimate by the manufacturer regarding best quality of the sauce. However, if the sauce goes bad, it can be identified by the odor and change in color; in this case you should stop using it.
Is there any substitute to the oyster sauce?
The soy sauce can be the best substitute simply by adding half tea spoon of sugar to it. As it has similar color and flavor for your dishes it can be used. Not only that, some people also use some drops of the Worcestershire sauce to the soy sauce to use instead of oyster sauce.
Is oyster sauce good for you?
Because a tablespoon with only 9 calories, no cholesterol and lowest amount of fat, it is considered good sauce for people looking to lose their weight.
Conclusion:
So, in this article you learned about some of the best brands of oyster sauce, different substitutes and nutritional information. If you have any questions, please do ask.