Who doesn't eat rice; it is almost common in every family. When we talk about rice, the first thing comes to mind is white rice or the healthier form such as the brown rice. The wild rice is not actually the true rice, but it is a species of grass yet it is lower in calories and high protein food. The nutrients of this rice make it the great alternative to regular rice. It is also called Indian rice, water oats or water rice. Because it is not the same type of rice, its flavor is also distinctive and strong than other rice types. In this article, you will learn about some of the best wild rice brands, its alternatives, different recipes and health benefits.
Editor's Recommendation: Top Wild Rice Brands
Are there some Types of the Wild Rice?
There are the three common types of this rice, including; Zizania Latifolia, Zizania Palustris and the Zizania Aquatica.
Top 12 Best Wild Rice Brands:
Here is the list of some of the best wild rice brands for a healthy alternative to regular rice: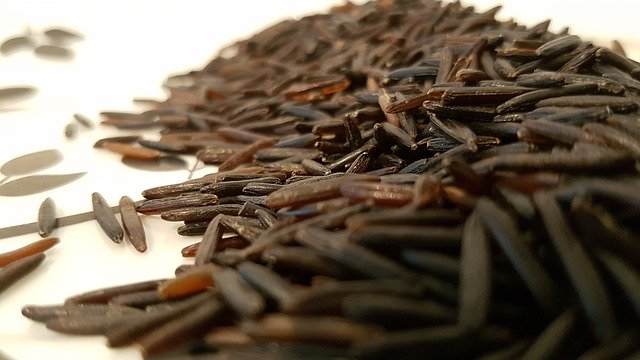 1. Thousand Lakes Minnesota Grown Wild Rice - Link
This wild rice comes in the pouch of 15 ounce.
The grain size is 3/8 of an inch long and the black outer hull is nutritious.
This rice is harvested in the Minnesota and is 100 percent natural also.
Not only that, it also doesn't contain preservatives, wild rice is the only ingredient.
Another thing is, when it comes to the protein, wild rice has it more than other rice types such as the white rice.
This rice has many uses such as for soups, casseroles and different side dishes also.
When cooked, it expands to about 3 times more.

2. Paul's Pail Thai Riceberry Natural Purple Rice - Link
This rice is exclusively grown in the Thailand and the riceberry is 100 percent natural purple rice which doesn't contain the artificial colors and it is high in fiber, zinc, gamma oryzanol and also antioxidants.
The bag it comes in is vacuum sealed and keeps the rice fresh.
Not only it has the earthy flavor but also has the firm texture.
This rice comes in the 1.1 oz bag and it is pack of 2 bags, making it the total of 2.2 ounce.
Something you may have to remember is; you would need more water with this rice as compared to other rice types.

3. Minnesota Grown Long Grain Dried Wild Rice - Link
This wild rice is grown in the Minnesota and it is long grain rice.
It not only has the savor earthy aroma but it is also free from preservatives, caffeine, sugar and GMO.
This rice comes in the one pound bag and it is the pack of 2 bags.
Not only that, it is also primarily great as flavorful ingredient for different dishes you may like.

4. RiceSelect Original Royal Blend - Link
It is a blend of different rice including; wild, pre-cooked brown, Thai red rice and also Texmati White which makes it total of four different rices.
The jar of this rice is BPA-Free.
This rice doesn't contain additives or preservatives.
Not only that but this rice is also low in fat, sodium and cholesterol also.

5. Lotus Foods Forbidden Rice - Link
This is the wholegrain rice which takes about 30 minutes to cook.
This wild rice is high in iron and also improves blood circulation.
It not only pairs well with fish, but also for different salads.
This rice also would be the great addition to many stir-fry dishes and soups.
It has deep and rich purple color along with the nutty taste and aroma.
This rice comes in the 15 oz bag.

6. Gerbs Wild Black Rice - Link
This rice is the all-natural and free from chemicals, trans-fats, GMOs or the preservatives.
Not only that, it is also free from gluten, peanut free, soy or egg free. This rice is not only high in fiber, protein, omega fats and also antioxidants.
It also has the distinctive flavor and texture and it is low in fat.
This rice is rich in the B Vitamins which are essential for the body.

7. Nature's Earthly Choice Minnesota Cultivated Wild Rice - Link
This rice is not only high in the protein but also is also rich in dietary fiber and it contains amino acid lysine also.
This low fat wild rice is Minnesota grown and it is all natural rice.
The resealable bag of the rice keeps it fresh.
It comes in the 3 pound bag.

8. Red Lake Nation 100% All Natural Minnesota Cultivated Wild Rice - Link
This rice has the distinctive taste which makes it great for different foods such as seafood, meats and many others along with its nutritional benefits.
Not only that, it also adds color flavor to a number of recipes such as; salads, casseroles, soups, desserts and many other things.
This wild rice is 100 percent all natural.

9. Organic Wild Rice - Link
This rice is more nutritious as compared to other rice types.
It only has 116 calories per cup and the fats are 0.6 grams, and this wild rice is safe for any kind of diets.
The nutty flavor of this rice makes it great for salads and many other dishes.
It contains essential vitamins and minerals including; B Vitamins, Vitamin A, Manganese, Copper, Zinc and Iron.

10. Vigo White and Wild Rice - Link
It is the savory blend of the long grain white rice along with wild rice.
The delicious nutlike taste of this rice makes it great for side dishes and different recipes.
It isn't only easy to prepare rice but is nutritious and doesn't contain fat.
It is completely seasoned and takes less than 25 minutes to prepare.

11. Gourmet House Wild Rice - Link
This wild rice has the distinctive taste and it is great with different foods including; seafood, meats, can be used as the side dish and also for different recipes.
The calories are 170 grams per serving and it also adds great flavor to the soups, desserts, casseroles, salads and many others.
It is pack of 4 and each of these packs is 16 ounces.

12. Rice a Roni, Rustic Recipies, Long Grain and Wild Rice Mix - Link
These are the tender long grain and wild rice along with the herbs and calories these contain are 190 per serving.
It cooks in about 22 minutes and can be used with different pasta dishes.
This rice is free from the artificial flavors or preservatives.
It is pack of 12 boxes and every box is 4.2 oz.
Wild Rice vs Other Rice Types:
Even the wild rice is not the true rice; it is a great alternative for people who are looking for lowest calories in the food. Anyway, here is how it is different from some other rice types:
Wild Rice vs Brown Rice
Both rice types have some of the similar benefits. While the brown rice is high in B vitamins; it makes these a great choice if you are on the meat-free diet. Similarly, the wild rice is good for the diabetics because both wild and brown rice help in reducing the blood sugar.
Another difference is the color. Wild rice is long grain with dark brown color whereas; the brown rice has much light color than that.
Is Wild Rice and Brown Rice the same?
Wild rice and brown rice are two different types of rice. The difference between wild rice and brown rice is that the former is actually a grass seed, while the latter is a type of short grain rice. Wild rice is harvested from the wild, while brown rice is cultivated.
Wild rice is not actually rice. It's a seed and it's not even a member of the rice family. It's more closely related to aquatic grasses than rice. Brown rice, on the other hand, is the whole grain with just the hull removed.
The wild rice takes about three weeks to harvest, and only grows naturally in lakes in Minnesota, Wisconsin, and Canada.
Wild Rice vs Black Rice
Not only both are nutritious than other rice types; these may be confused because of similar color, but there is some difference. Wild rice is rich in the antioxidants yet it is low in fats. The grain of wild rice is long and dark brown which looks black. Whereas, the black rice is the short grain rice and it has been known to be good for kidneys and liver and stomach since the ancient times.
The black rice is also good source of the antioxidants and rich in fiber.
Benefits:
The wild rice is beneficial in many ways. Here are some of the benefits of wild rice:
High Protein Rice
This distinctive grain is enriched with more protein as compared to many other types. Its 100 grams contain 4 grams protein. So, you would have to consume twice as much of brown rice or white rice to get the same protein.
Other than that, it also contains 1.8 grams of fiber in that 100 gram of wild rice.
Great for Bone Health
Zinc and phosphorus in the wild rice are beneficial for maintaining the mineral density of the bones, keeping the bones strong. It makes wild rice great option comparing to other rices.
Anti-Aging Food
The antioxidants in wild rice are great for neutralizing free radicals and keep your skin younger by preventing wrinkles and age spots.
Diabetics Can Consume It
It is common that rice is not good for diabetics. But the wild rice isn't the same, not even from the same rice family. It comes from the grass and is very little in sugars only (1.2 grams). Consuming in moderation doesn't cause spikes in the bloodstream sugar levels. Smaller quantity is alright for people with diabetes.
Healthy For Heart
Potassium and magnesium are essential for the heart health, and these are nutrients in the wild rice, which makes it beneficial for the heart. Those nutrients help control blood pressure, whereas, the dietary fiber in wild rice helps in maintaining the cholesterol levels.
Recipes:
There are many recipes to cook wild rice alone and with other ingredients. Here are some:
Simple Recipe (Without Ingredients)
If you want to cook only wild rice without using any ingredients, the cooking method is simple as soaking and boiling these. Here is the video to do that:
With Herbs
Another recipe is wild rice with herbs. Here is the video:
Creamy Chicken and Wild Rice Soup - Link
Here is a delicious recipe of the creamy chicken and wild rice soup, where Laura explains how she makes it by adding some vegetables to it.
Some Common Questions about Wild Rice with Answers:
In this article, you learned many things about Wild Rice, but you may still have some questions. Here are some of the common questions asked about the wild rice, and the answers:
Does the wild rice go bad?
It is advised to store in the cool temperature. However, wild rice doesn't go bad and remains safe indefinitely. If you store it in the freezer, it will be secured from bugs and many other things.
Is wild rice good for weight loss?
Because it is low in calories and fats; it is good for people who are willing to lose weight.
Conclusion:
So in this article you learned about some of the best wild rice brands and different benefits along with the alternatives. If you have any questions, please ask below.