When you're a parent, you'll understand how kids seek out those applesauce cups or pouches, from Mott's or GoGo SqueeZ.
Applesauce is usually made from unpeeled apples by adding some flavors. It is your choice if you want to make the sauce sweetened or unsweetened. Yet, these can be used an alternative to cereal when you don't have one.

Indeed, these taste so good (your kids must know it) yet these are not that affordable as you might think.
Either way, the good news is, you don't have to spend for a specific brand of applesauce pouches if you can't. These are possible to prepare at home if you can spend some time on these.
Editors' Picks: Top Applesauce Cups and Pouches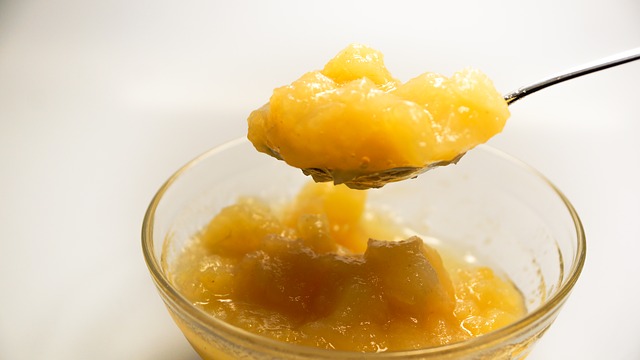 We cover step by step instructions you can follow to learn how easy it can be.
While, you already may know how to make applesauce at home, but if you don't, here are some videos on how to make a delicious applesauce at home:
Here is how to make applesauce at home and put it into cans:
To put into pouches, you will need some reusable squeeze pouches which can be found here:
Brands of Applesauce Cups and Pouches
However, if you are still want to know about some of the best brands of applesauce squeeze pouches and cups, here are some:
1. GoGo squeeZ Applesauce on the Go 12 Total Pouches
GoGo SqueeZ Applesauce On The Go
This applesauce is made of 100 percent real fruit which is placed in the portable squeezable pouches which are BPA-free, gluten free, nut free, free from added colors and dairy free. It is a perfect snack for kids who participate in sports, their parties and classroom or outdoor snacks. The size of these pouches is convenient for kids' lunch boxes or their backpacks.
It is safe for your kids and doesn't contain GMO or preservatives. These are also vegan friendly.
2. Santa Cruz Organic Apple Sauce
Santa Cruz Organic Apple Sauce
It is contains a blend of organic apples and each cup is four ounces. It gives the daily value of vitamin C to your kids. This applesauce is naturally fat-free and it is Certified by USDA organic and Verified by Non-GMO Project. This gluten-free applesauce comes in the convenient cups. Its each serving contains 50 calories. Every pack contains 6 cups and these are 4 packs to give your kids, days of servings.
3. GoGo SqueeZ Fruit & VeggieZ on the Go
GoGo SqueeZ Fruit & VeggieZ On The Go
It is not only applesauce but a combination some other healthy fruits and vegetables such as pears and carrots. The ingredients are free of some harmful components such as it is gluten-free, dairy free, nut-free, doesn't contain added colors or flavors. As with other GoGo SqueeZ, these pouches can also fit in a standard size lunch box easily. One of the best things about these pouches is, your kids do not need spoons or other tools.
4. Mott's Applesauce
Mott's Applesauce
It is a box of four-ounce cups and contains 36 containers. The ingredients of this applesauce make it another healthier alternative to any other breakfasts or lunches for your kids. It is also a great source of Vitamin C which your kids would enjoy too. Motts contain only the finest apples to prepare this applesauce. This applesauce would taste so good on bread slices. Furthermore, knowing this may surprise you that they have been serving since 1842.
5. Santa Cruz Organic Applesauce Pouches
Santa Cruz Organic Applesauce Pouches
This bundle of pouches come in a variety of flavors including Applesauce with Cinnamon, Only Applesauce and Applesauce with Strawberry to give your kids different flavors. Every pack contains 3 pouches and these are 3 packs, making it 9 total pouches. Because of its variety, kids can enjoy a new flavor everyday.
How many calories does applesauce have?
Usually 100 grams of sweetened applesauce contain 68 calories and unsweetened include 42 calories. Not to mention it is one of the healthy snacks for your kids.
Applesauce Uses:
Not only applesauce is a delicious snack but it has different uses. Such as whenever you are out of certain kitchen items, the applesauce can be useful. So let's talk about it:
As an Alternative to Eggs:
While you are making a recipe and you are out of eggs. All you need is to use 1/4 cup of the unsweetened applesauce, which can be used in different recipes.
Can you freeze homemade applesauce?
Yes, you can place the homemade applesauce in the frige and it can remain usable for up to 2 months. Whenever you want to enjoy it again, simply defrost it.
How Many Apples You Need to Make Applesauce?
On an average, 2 big apples are good for making 2 cups of applesauce. According to CooksInfo, 2 big apples which usually weigh 1 pound or 450 mg apples would be needed for those two cups.
Ways to Make Applesauce with Different Fruits:
In fact, applesauce itself is delicious. However, how about adding some more flavor to it. I mean adding an extra fruit can not only increase its taste but gives extra nutrition at the same time. Here are some fruits and recipes to enjoy:
Applesauce with Cranberries:
The first recipe is applesauce with cranberries. The video is made from colorful canary site. Here someone shows how she makes a delicious applesauce by adding cranberries to it, in a simple video which is around 5 minutes. In which you have to add apple pieces, cranberries and some water, and keep stirring for several minutes. Make sure you keep adding some water from time to time. Alright, here is the video:
Applesauce with Pears:
The 2nd recipe is from the site Best Recipe Box, which shows you how to make applesauce with over-ripe pears. The recipe ingredients are: 2 pounds of pears with 1 pound of apples both peeled cored and are cut into chunks of one inch each. Other things include: Brown sugar, cinnamon, clove, ground ginger and more. I think it is better to look on their site here for complete recipe.
Applesauce with Peaches:
This 3rd recipe is from abc.go.com, the recipe name is Daphne's Peach Apple Sauce. The things you need here are: Gala apples 4 pounds, Peaches (frozen sliced) two bags, extracted juice from 2 lemons, a cup of water and honey nearly three tablespoons.
Select these ingredients and add to a large size pot and start boiling these and then reduce the temperature to simmer. Here is the full recipe.
Conclusion:
So, you have learned about the best applesauce brands, their recipes and uses. Make sure to always check the sugar content and calories whenever you want to get a packaged applesauce.