Coconut is widely used for many meals, but sometimes you don't find it in your kitchen. So what would you do if you need it badly and don't have it? Of course, you will use its substitutes. But what are these? There are many substitutes for coconut milk. We will discuss it here:
Coconut Cream: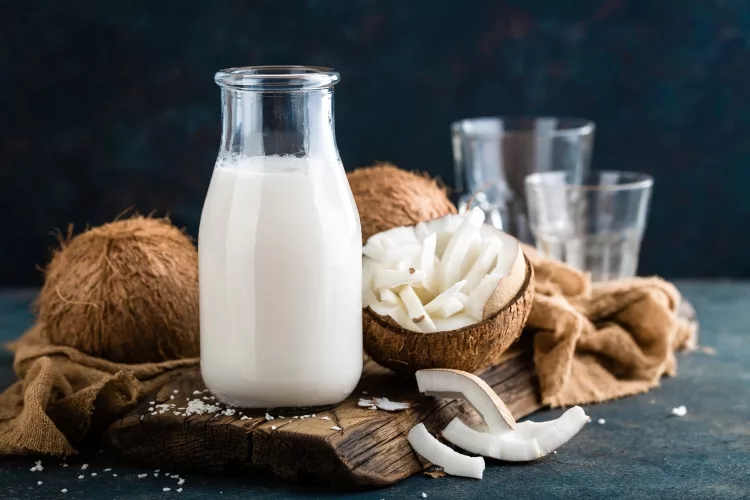 The coconut cream is the best alternative for curry if you don't have coconut milk because its creaminess makes it perfect for the Indian dish.
Coconut Cream is white and creamy in texture, which looks like fresh cream because of the heavy fat content. It is often used to add coconut flavor as it contains high-fat content. In addition, you can use this substitute if the recipe needs coconut milk rather than coconut water.
Oat Milk:
Oat milk is the best substitute for coconut milk. Mix 2 tbsp of oats with 2 cups of boiling water and let it steep overnight. In the morning, strain this mixture using a cheesecloth or muslin cloth to remove all the oat particles which would have settled at the bottom after hours of brewing. This will give you about 3/4th cup of thick, creamy, and smooth oat milk that can be used in your favorite dishes instead of regular milk.
So, the next time you have to prepare your favorite curry using coconut milk - do not fret! Just use oat milk instead.
Cashew Cream:
If you are looking for a nut-free substitute with fewer calories, then cashew cream is best for your curry. This creamy substance is made by grinding raw unsalted cashews in a food processor, adding some water, and blending it until smooth. The resulting mixture will be very thick like cream and can even be used to substitute whipped cream. So, the next time you feel like having something fabulous with heavy cream, try out this excellent substitute!
Powdered Milk:
Milk powder is another substitute for coconut milk that we are going to discuss today. If you can't find fresh milk when you need it most, use powdered or condensed milk as a substitute. You will not get the same richness and creaminess out of a can of condensed milk, but if you want the smoothness that evaporated milk brings about, then this is your best bet!
So, next time you have to prepare baked goodies for any party, don't forget to buy those food items which are easy substitutes for the hard-to-find ingredients. You might never know when they come in handy in an emergency!
Evaporated Milk:
Evaporated or Condensed milk can be an excellent substitute for coconut milk in many recipes. It is a canned or boxed prepared food made by heating fresh cow's milk, and then its water content evaporates to leave behind a thick, rich, creamy substance. You can use condensed or evaporated milk powder for both sweet wells as savory dishes.
Coconut Milk Powder:
Well, this product is not as commonly found in any local store but if you are serious about cooking and have an Asian food market close to you, then make sure not to miss out on coconut milk powder when shopping! This thick, smooth white powder will help you achieve unique flavors with minimal effort and hard work. So, next time you need this ingredient, try using coconut milk powder instead of regular coconut cream or milk!
Heavy Cream:
Heavy cream can be used to substitute for coconut milk if you cannot prepare the new variety at home. The rich cream is also called "whipping cream" or "single cream" and comes in different fat contents like 36 percent, 40 percent, and 48 percent. So, for using it as a substitute for coconut milk, use the thickest version with more fat content than a thin one. That way, you will get extra smoothness and richness that gives an incredible texture to your dish!
Soy Milk:
Next time you want to have ice cream with some friends, instead of buying some pre-made store-bought stuff, try this recipe that allows you to make your own tasty soy ice cream in just a few minutes.
Almond Milk:
No matter whether you are lactose intolerant or vegan, almond milk has got your back. This deliciously nutty and creamy beverage can be a substitute for coconut milk in many recipes. It is one of the best substitutes to have on any occasion!
Almonds are the best when it comes to health benefits, and almond milk has many health-friendly properties. So, next time you need any liquid substitute, just try out this homemade almond milk which can be used in place of coconut milk! All you have to do is soak almonds overnight in water and then grind them into a smooth paste. Then add some water and blend again until you get the creamy mixture that resembles milky liquid. This almond-based beverage can be served cold or hot with your favorite dish!
Hazelnut Milk:
Tired of using all those store-bought milk? Make this easy recipe to make hazelnut milk at home that can substitute for regular cow's milk. The good news is that it lasts longer than other kinds of canned liquids, so you won't have to worry about it getting spoilt too soon after opening the container.
Rice Milk:
Next time you want to make a sweet dish that needs milk, try this recipe out and use rice milk instead. This milky liquid has shallow fat content, so it is excellent for lactose-intolerant people.
Rice milk is also great for people who want to avoid consuming saturated fats. It can be used as a substitute for regular cow's milk in any recipe.
Greek Yogurt:
You can use Greek yogurt in place of coconut milk. It has a lot more substance than regular dairy-based dairy-based yogurt, and it also has some exciting health benefits!
Sour Cream:
This dairy product can be used as a substitute for coconut milk. It is excellent to serve with your favorite Mexican or Italian dish!
Yogurt:
Yogurt can be easily substituted in place of freshly made coconut milk. So, next time you are out of fresh coconut milk, use store-bought yogurt instead and enjoy the same flavor!
Milk:
Yes, you can use milk as a substitute for coconut milk. It is excellent to serve with your favorite breakfast cereal!
Conclusion of the Article:
I hope this information was helpful for you. This article shows how other milk and dairy-based products can be used as substitutes for coconut milk. I tried my best to include all kinds of substitutes available in the market that could be used to replace coconut milk. It is up to you to decide which one suits your requirement the best.
I am a big fan of coconut milk and love to use it in all my recipes. I always try to buy the new version from nearby markets as it tastes much better than other store-bought brands. Once I don't have any fresh coconut milk available in the house, I either go for some non-dairy products like soy or rice milk or use some different versions of coconut milk mentioned in this article.